'Femtech' may have its moment as investors target specialized digital health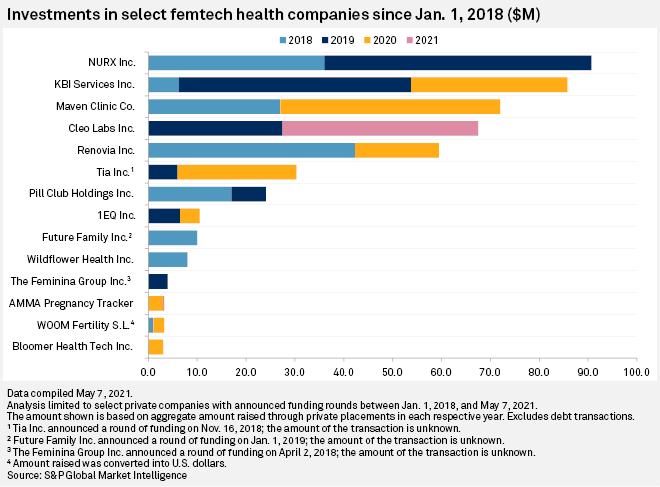 From S&P Global by Morgan Frey
The pandemic-fueled popularity of online tools for primary and chronic care have emboldened investors to seek more specialized opportunities in digital health. Women's health may be their next target.
With patients pushed online by COVID-19, companies like Teladoc Health Inc. — whose share price more than doubled in 2020 — got a warm reception on Wall Street. That led to greater interest in digital tools aimed at treating a chronic care population with conditions like diabetes and heart disease.
The enthusiasm has not quite caught up with digital women's health, often dubbed femtech. The field includes companies focused on maternal care, fertility and gynecologic care and is expanding into areas such as menopausal care and female reproductive cancers.
Digital health venture fund Rock Health told S&P Global Market Intelligence via email that an analysis of its 2020 data showed that female-focused digital health companies raised $418 million across 22 deals, which represented only 3% of overall digital health funding last year. In the first quarter of 2021, which at $6.7 billion was the largest quarter for digital health funding ever, only four U.S.-based femtech deals exceeded $2 million, raising about $58 million total, according to Rock Health. Read more here.