Temperature Check: The State of Digital Health and Our Market Prognosis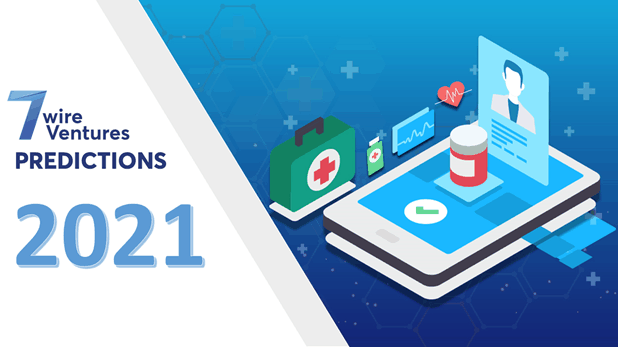 This past year may have brought many challenges, but one thing is quite clear – 2020 was an exceptional year for digital health, one that may eventually be seen as a turning point for the industry. Against the backdrop of COVID-19, digital health solutions stood out as uniquely positioned to address the healthcare challenges posed by a newly socially-distanced world. Though the early months of the pandemic created significant funding uncertainty, any temporary lull gave way to record-breaking investment activity as investors capitalized on shifting consumer behaviors and increased receptivity to digital solutions.
As a result, 2020 is on pace to be the strongest year ever for digital health funding, with total private capital raised expected to exceed $10B – more than double the amount from just five years prior. Over twenty companies raised later-stage rounds of $100M+, driving the increase in total funding and highlighting some potential market maturity. While industry insiders have predicted the inevitable rise of digital health for years, 2020 truly felt like the year in which the industry finally took its place on the main stage.
Among the segments of the market seeing increased funding in 2020, a common thread was the focus on delivering convenient and transparent health services. A steep rise in mental health challenges across the world illuminated the need for convenient and accessible mental health services. Digital mental health companies such as Lyra, Mindstrong, and 7wire portfolio company NOCD raised large rounds as demand for virtual mental healthcare grew to record levels. Likewise, chronic disease management companies that enable care organizations to remotely track the health of consumers at home, such as Biofourmis and Virta, raised new funding as they benefited from the creation of new remote patient monitoring reimbursement codes. Additionally, as high risk consumers were seeking safe, socially distanced care outside of the traditional health clinic, we saw multiple deals in the at-home care delivery space, with companies like Honor and 7wireVentures portfolio company Homethrive raising new investments.
Nonetheless, it is important to recognize that COVID-19 merely accelerated pre-existing market trends. The consumerization of healthcare, the decentralization of care delivery, the push toward increased price transparency and data interoperability, and the proliferation of connected devices all were underway well before the pandemic.
2020 also marked a rebound in M&A activity and saw the largest digital health deal ever with the $18.5B merger of Teladoc and Livongo (a 7wireVentures portfolio company), which established the world's first full-spectrum, virtual care company and cemented the company's market-leading position.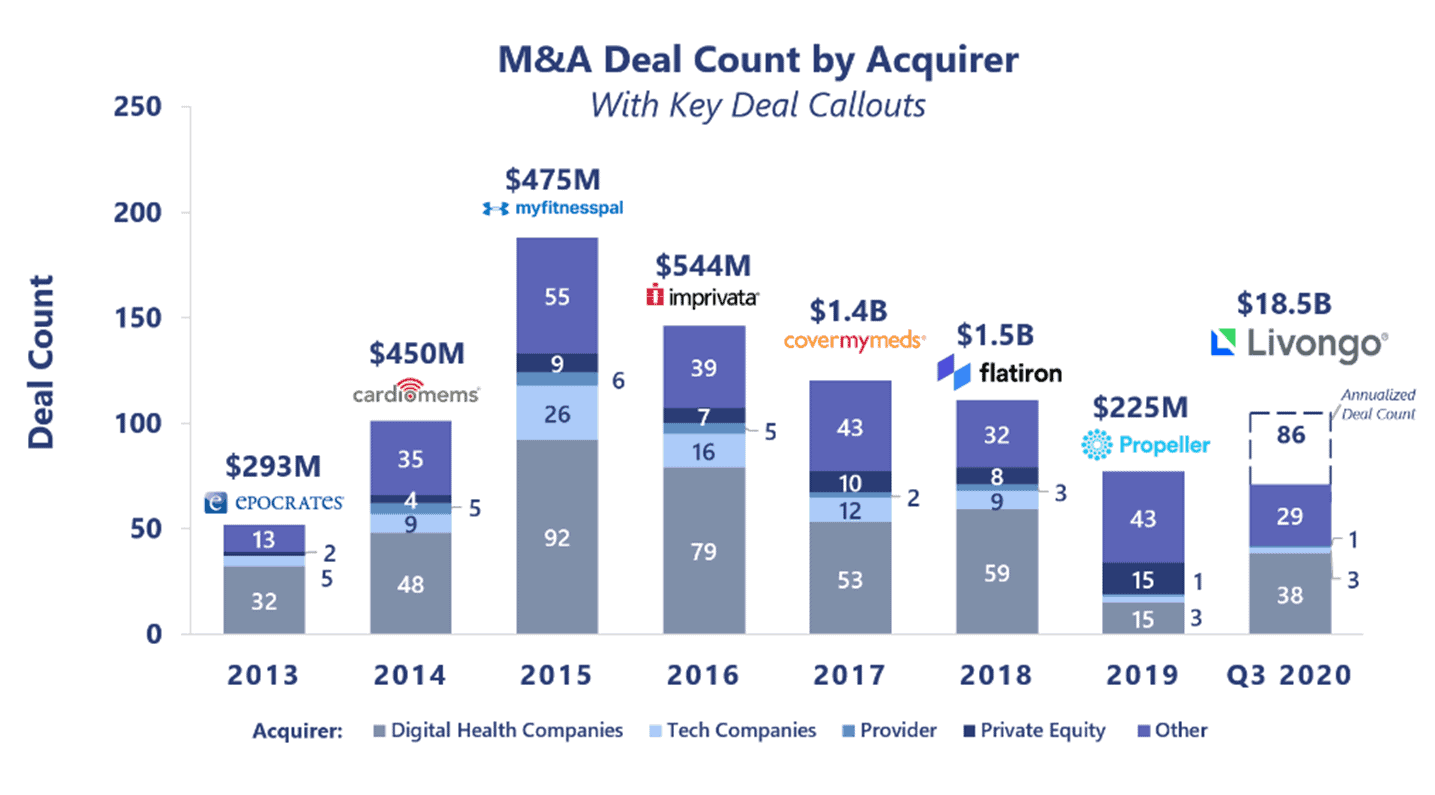 2020 also saw a surge in digital health companies raising capital through IPOs and SPACs, with One Medical, Accolade, Amwell, and GoodRx raising funds via IPOs and Hims and Clover announcing plans to go public via SPACs, all at $1B+ valuations. As expected, the industry has not been immune to the SPAC craze, with more companies electing to go public via these acquisition vehicles, a trend that is likely to persist given the uncertainty in the public markets resulting from COVID-19 and recent political and economic turmoil. Overall, we expect activity to remain strong in the coming years, given the existing cohort of mature digital health companies poised for future growth and fresh infusions of capital.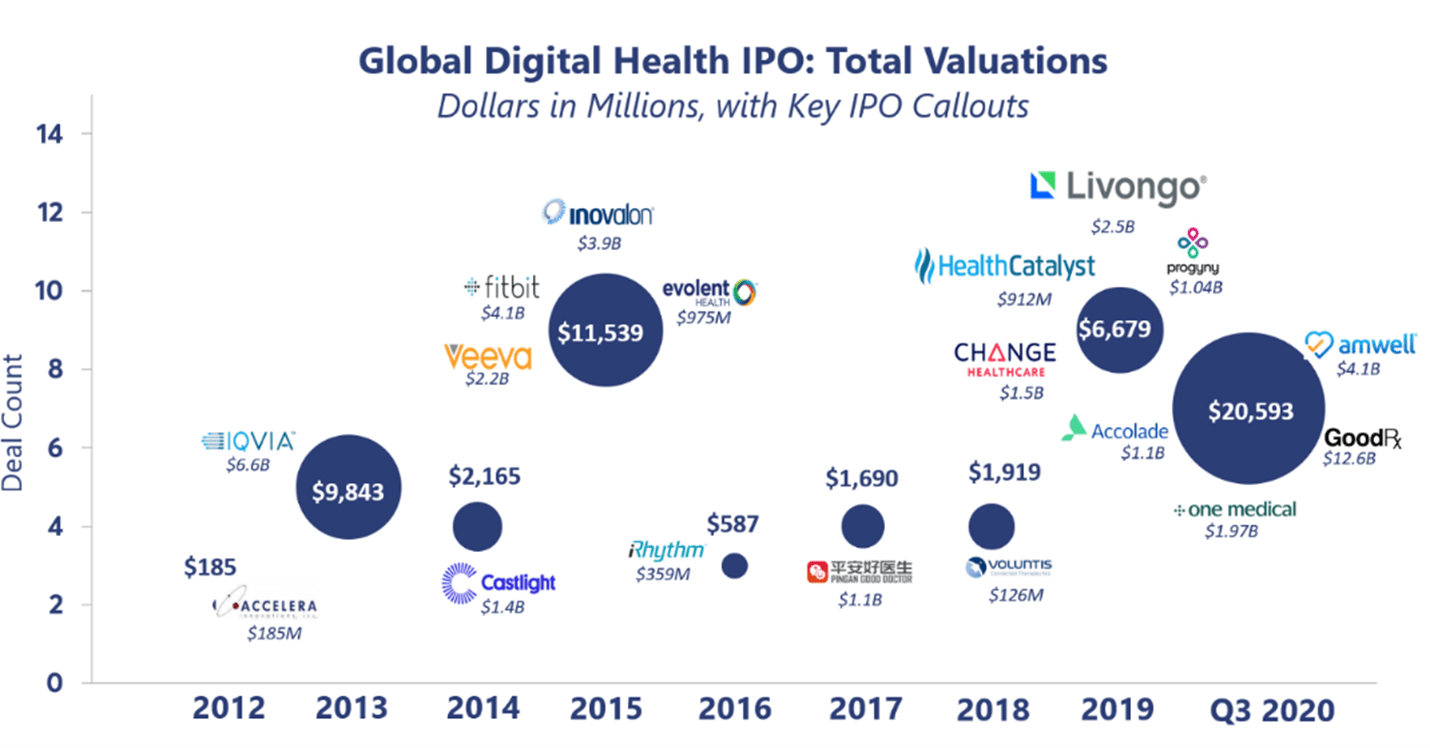 So, What's Next?
With 2020 in the books, what do we see on the horizon for the digital health industry? Our 7wireVentures "Top 7" predictions represent the top industry-wide shifts and notable catalysts that we will be paying close attention to:
#1 Rival virtual care platforms emerge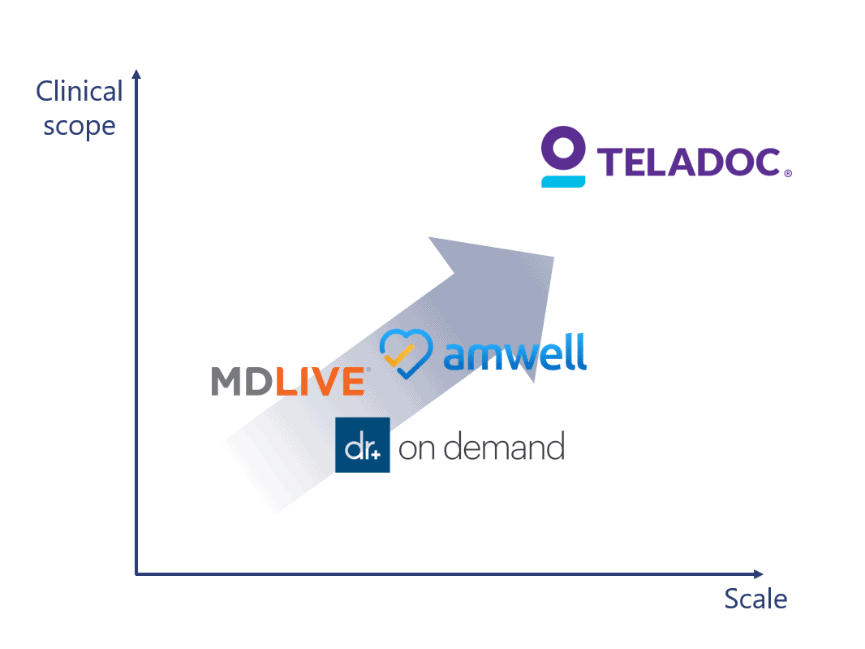 The recent surge in digital health IPO's, as well as the new market created by the Teladoc-Livongo merger, sets the stage for greater consolidation in the virtual care market. Fueled by access to public market capital, established players will increasingly turn to M&A to expand their product and service offerings and build their own end-to-end virtual care platforms. Just as the Big Tech platform rivalries rage on between Microsoft, Google, and Apple, we expect there will be a similar battle for primacy among Teladoc and the likes of Amwell, MDLive, and Doctor on Demand, who will all make a play to be the one-stop-shop for consumers' virtual care needs.
#2 Real-time data enables proactive care
Throughout COVID-19, telehealth has gained substantial adoption and served as a valuable stopgap to ensure continuity of care.  Many healthcare stakeholders believe that telehealth will play a much larger role in care delivery going forward, assuming sustainable reimbursement policies. Yet healthcare stakeholders will ultimately recognize that increased utilization of telehealth alone – while certainly convenient for consumers – is not sufficient to drive improved health and cost outcomes. Instead real-time patient data must be used to deliver timely insights and actionable recommendations. As companies like Livongo and Biofourmis have demonstrated, the combination of connected devices, always-on insights, and telehealth services is what ultimately drives superior outcomes for both healthcare stakeholders and consumers.
#3 Care shifts to the home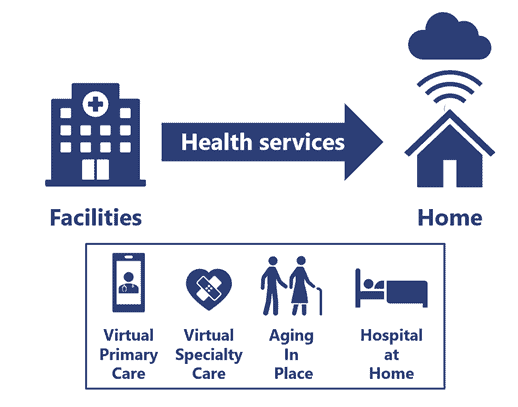 With the scope of virtual and mobile care services rapidly expanding, enabled by digital health companies like Tytocare, Dispatch Health, and Contessa Health, a significant portion of care will move from facilities to the home, bringing hospital-at-home and aging-in-place programs to the forefront. Regulatory agencies too have recognized the need to enable at-home care for expanded use cases, with CMS announcing a new innovative Acute Hospital Care At Home program just last week. Fueled by regulatory support, health systems will rethink how they conduct appointments, and rebalance care toward the home. This shift will induce health systems to reevaluate their facility-based investments, as well as create new opportunities for digital solutions enabling at-home care delivery.
#4 Health equity becomes a top priority
As a result of the glaring disparities in health and economic outcomes that have been brought to the forefront by the pandemic, payers and providers will renew their focus on expanding access to affordable health services and addressing the social determinants of health, in particular the digital divide. However, implementing, tracking, and measuring the outcomes of such programs, remains a challenge. Digital solutions can help healthcare organizations implement and precisely track SDoH programs – such as food and transportation support – at scale and at lower costs, enabling program sponsors to better allocate resources and justify health equity investments. Increased funding including last year's expansion of Medicare supplemental benefits or new models such as Humana's innovative value-based program for nonmedical risk factors will fuel adoption of such programs.
#5 Mental health takes center stage
Healthcare stakeholders will place a much greater emphasis on mental health and its integration with physical health, partially due to the exacerbation of mental health challenges experienced during the COVID-19 pandemic, forcing the industry to confront the shortage of mental health clinicians and identify new ways to expand provider capacity. While the pandemic has helped to address the unmet need for mental health treatment by expanding access to digital resources such as teletherapy, long-standing challenges remain, such as the long wait times to see a provider and lack of affordability. To address these challenges, the industry will increasingly turn to innovative, digitally-enabled care models that allow mental health clinicians to provide treatment at scale by leveraging tools such as chatbots, peer-to-peer support, and group therapy.
#6 Lower cost direct-to-consumer offerings get a boost
With an increasing number of Americans uninsured or facing record high deductibles, new forms of direct-to-consumer healthcare will emerge that offer consumers lower cost care delivery alternatives originating from a combination of digital health startups, traditional providers leveraging new payment models, and national retailers. Companies like Bind and Mira, which offer consumer-friendly complements/substitutes to traditional insurance, and direct-to-consumer cash pay service providers like Walmart Health and direct primary care practices will see increased interested from consumers looking for affordable healthcare options outside of traditional payment models.
#7 Consumers take back control of their data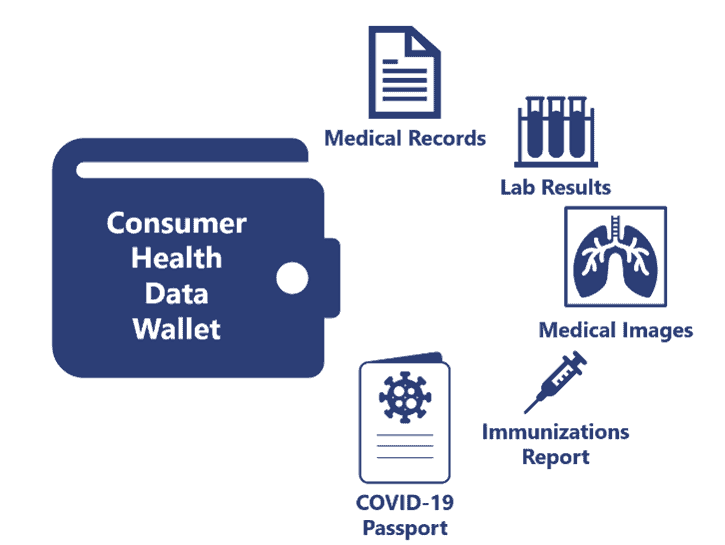 Private and public organizations will leverage digital solutions to track health status, which will serve as the impetus to the expansion of consumer health data ownership and fuel an industry- wide shift towards increased data interoperability and portability. Already we have seen private organizations like airlines embracing digital passports that document consumer COVID-19 health status. Over time, we expect consumers to demand increased access to their health data, with health systems moving more patient data online and digital health startups that empower patient access to health data like Picnic Health seeing increased market interest.
With COVID-19 providing the industry with an unforeseen launching pad, we at 7wireVentures are energized by the promise of the industry's future. With digital health finally captivating the attention of payers, providers, pharma, regulators, and consumers alike, we believe there will not only be immense investment and adoption across industry participants, but also an accelerated transformation of patients to Informed Connected Health Consumers as access and awareness of digital health solutions grows like never before.