Tech-Enabled Solutions for Primary Care
Over the past decade, consumers have gradually transitioned away from the traditional path of primary care and are increasingly utilizing alternate care options. From retail and virtual clinics to urgent, episodic, and on-demand care options, consumers are empowered with a choice in how and where they receive primary care. However, this revised care journey has consequences, including discontinuity of care, diminished patient-provider relationships, and increased costs and utilization.
Why are consumers abandoning the traditional primary care journey and seeking new models of receiving care? Stemming from barriers in engagement, accessibility, visit experience, and post-visit coordination, consumer's fundamental needs and preferences in primary care are not being met.
As age and health status are key determinants of consumer interaction with the health system, 7wireVentures has categorized the market into four distinct segments: Healthy Mavericks, Frequent Flyers, Quality Seekers, and Declining Traditionalists.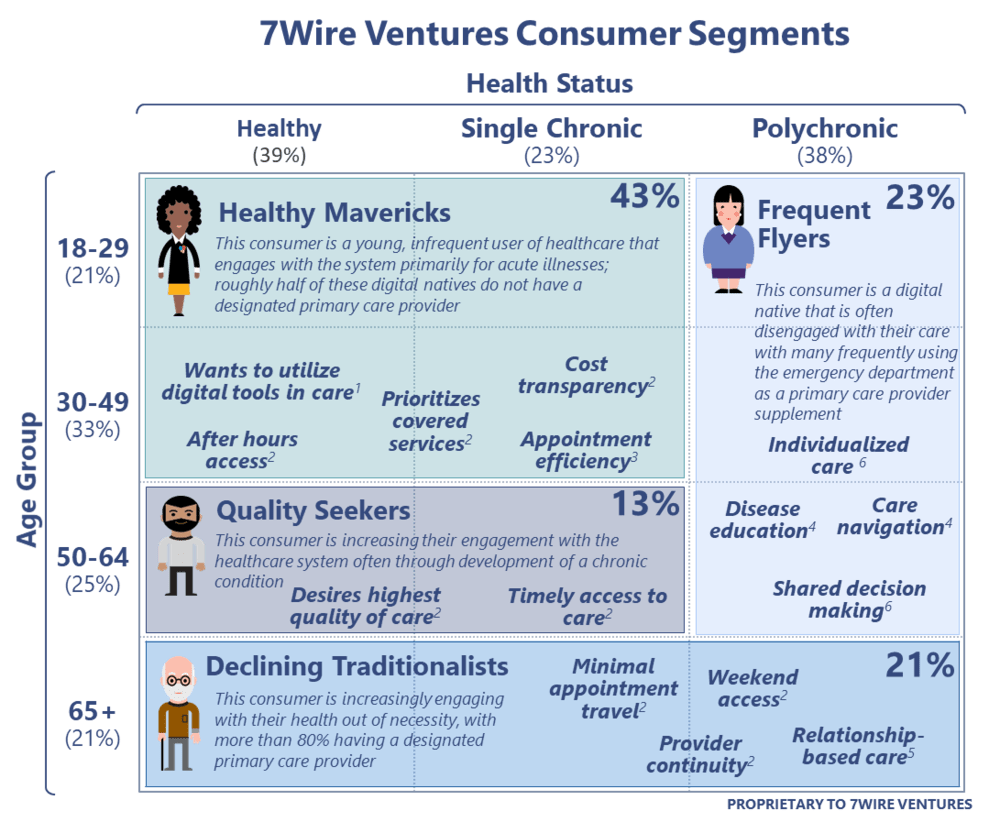 In response to consumers' primary care preferences and the consequences that result from barriers to accessible, cost-effective, coordinated, and quality primary care, a proliferation of digital health companies has emerged.
Investor interest in tech-enabled primary care is also growing, with a sharp increase in total funding both in 2018 and 2019. This market also saw a substantial rise in both the number of deals and average deal size, primarily driven by a small number of mature companies raising deals over $50M. Through our research, 7wireVentures identified over 300 digital health and tech-enabled service companies addressing the unmet consumer needs in receiving accessible, cost effective, and high-quality primary care.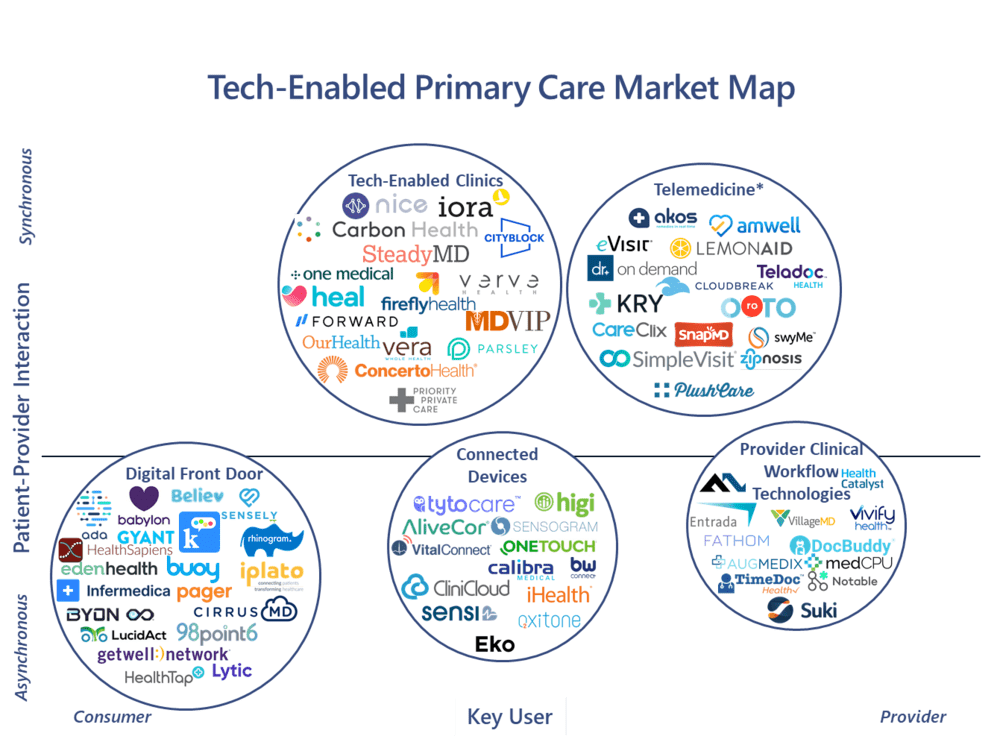 Digital Front Door: Consumers rely on the internet to learn about and determine how to access healthcare services. As a result, companies in the digital front door sector have emerged to capitalize on consumer preferences, and meet provider and payer needs for patient engagement and steerage. Companies in this sector are providing digital solutions for the initial point of contact between consumers and healthcare. Technologies include symptom checkers, health assistants, and navigation chatbots. This sector was the second largest category, representing 23% of total private funding from 2012 to 2019.[2]
Connected Devices: The growth in the diverse functionality of devices and companion applications is driving adoption of wearables, including in disease management; approximately 30% of wearable users are using the device to manage a diagnosis.[3] As such, companies in this sector are leveraging adoption tailwinds to create connected devices that generate self-reported and measured data. Example use cases in this sector include diagnostic tools, remote monitoring, consumer wearables, and fall detection. This sector was the fourth largest category measured by total private funding, representing 16%.[4]
Telemedicine: Consumer expectations for convenience are fueling an increase in telemedicine adoption.[5] Stemming from the rise in demand, physicians are more interested in adopting telemedicine solutions into their practices. Telemedicine companies are enabling convenient access to primary care physicians, particularly for low acuity urgent care. This sector was the third largest category, representing 22% of total private funding data.[6]
Provider Clinical Workflow Technologies: With a primary care provider shortage looming, physician retention and elimination of burnout is increasingly important. With approximately 47% of primary care physicians reporting feeling burned out, companies are capitalizing on the opportunity to improve the efficiency of bureaucratic tasks.[7] Additionally, with advancements in personalized prevention and screening, new platforms are enabling clinicians to deliver higher quality care. Companies in this segment consist of clinical transcription tools, decision support technologies, pharmacogenetics, and genomic screening platforms. Comprised of many emerging technologies, this sector represents the smallest category, totaling 12% of private funding.[8]
Tech-Enabled Clinics: Tech-enabled clinic growth has been fueled by consumer desire for convenience and technology, as well as by the growing needs of the aging and chronically ill populations. Companies in this sector use care delivery models that leverage technology to provide personalized care, monitor health, coordinate care, and reduce physician burden. Examples of models include concierge clinics, employer on-site clinics, and virtual first clinics. This sector represents the largest category with 33% of total funding.[9]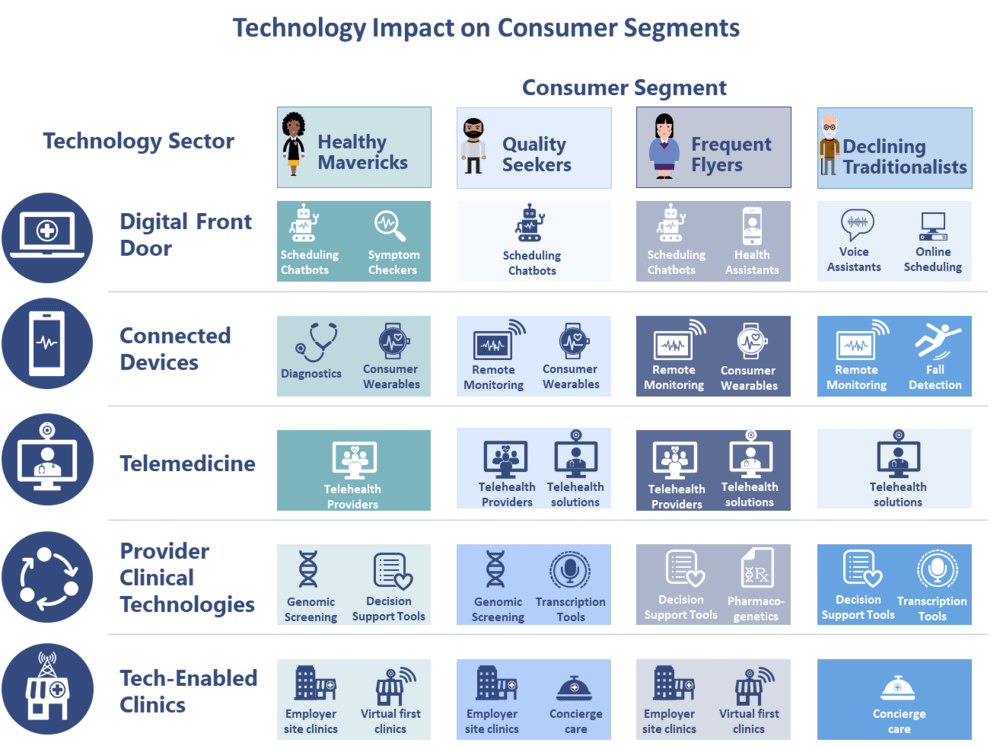 While each technology sector can drive impact across all consumer segments, consumer's behavior patterns and prioritized needs influence each sectors ability to provide value. The relative level of impact is especially relevant for digital health companies in each sector to understand and target the appropriate consumer. Additionally, healthcare organizations such as payers and providers can prioritize development and integration of new technologies and services based on identified target member groups or populations.
7wireVentures Predictions
PREDICTION 1:  PAYERS AND PROVIDERS WILL NEED TO ADOPT AN INTEGRATED DIGITAL FRONT DOOR TO PROTECT THEIR MEMBERS AND PATIENT RELATIONSHIPS AGAINST NEW MARKET ENTRANTS.
Today's digital front door is fragmented with multiple applications that provide a confusing and inconsistent consumer experience. With heightened consumer expectations for intuitive technology-driven services, payers and providers will need to develop seamlessly integrated digital front doors to retain market share.
Big technology companies recognize the opportunity in healthcare and aim to become the new digital front door. Many technology players have made their initial move into primary care by delivering on-site employee clinics through their own employed providers. Facebook is one example of an organization employing their own physicians. Apple has also taken a similar approach through its subsidiary, AC Wellness, which not only delivers traditional primary care services, but also provides wellness and advanced preventative care to its employees.[10] While these clinics can be used as a means of better managing employee healthcare costs, they also serve as pilot testing grounds, helping big technology companies better understand the market and the consumer's primary care preferences.
As digital natives such as Healthy Mavericks become an increasing portion of the population, the seamless digital experiences provided by consumer technology and social media will become expected in healthcare. With a strong preference for online tools, the highest likelihood of self-referring, and the greatest users of retail clinics, Healthy Mavericks will drive healthcare organizations toward developing solutions to retain this consumer segment from new entrant threats. Additionally, the case for a digital front door to better manage Frequent Flyers is substantial, as these high-cost, high-utilizing consumers are interested in using digital tools. Tasked with managing multiple chronic conditions, this consumer segment can greatly benefit from care navigation assistance from payers and providers.
Key Takeaway: 7wireVentures believes that healthcare organizations will need to create an integrated seamless digital front door, driven by AI-enabled navigation that understands a user's benefits, assists with searching of in-network and out-of-network providers, enables online scheduling, triages care, and provides virtual visit connection. A fully comprehensive solution will be required for healthcare organizations to protect their market share.
PREDICTION 2: PAYERS WILL LOOK FOR WAYS TO DIRECTLY ENGAGE MEMBERS TO ENSURE HIGH-QUALITY AND COST-EFFECTIVE PRIMARY CARE IS ACCESSIBLE
As the bearers of cost and risk, payers will become a central point of communication for consumers. Payers have the strongest incentive alignment to establish long-term member relationships and will continuously need to compete to acquire new members and fulfill unmet consumers' needs in primary care. Additionally, a continued provider shortage will drive challenges in providers' ability to deliver preventative care, with payers bearing much of the resultant cost. By directly engaging with members and assisting with care navigation, health plans will seek to influence member health behaviors and the utilization of medical resources.
Specifically, the key initial target for these services will be the high cost and high utilization Declining Traditionalists segment, which provides the greatest opportunity for ROI on additional services. Primarily comprised of Medicare members, health insurance in this segment is not tied to employment and, therefore, these consumers present a strong opportunity for payers to establish long-term relationships. The Quality Seekers will also benefit from this direct payer engagement, as many of these digitally comfortable consumers are aging to become seniors. Payers have the opportunity to build early, digitally-driven long-term relationships with these prospective members.
With these considerations in mind, payers are already establishing strong foundations by partnering with digital health technologies to ensure delivery of high-quality primary care. 7wireVentures SLP Horizon Blue Cross Blue Shield of New Jersey partnered with and invested in Pager, an online chat platform that enables professionals to triage patients, coordinate in-home or office primary care visits, and schedule provider appointments. With Pager as a first point of contact into healthcare, Horizon BCBSNJ can ensure a strong member experience while navigating users to the appropriate lowest cost site of care.[11]
Key Takeaway: 7wireVentures believes that success for payers will require investing in and partnering with technologies that enable direct communication with and seamless navigation for their members.
PREDICTION 3: PROVIDERS WILL BUILD, PARTNER WITH, OR ACQUIRE NEW TECH-ENABLED CLINIC MODELS TO PROVIDE PERSONALIZED, ACCESSIBLE CARE.
Providers are well-versed in the topics of physician burnout and an impending primary care clinician shortage. Throughout the past decade, physicians desire for greater autonomy has led to a rise in innovative clinic models, including concierge care and direct primary care. Adopting innovative models will enable health systems to better recruit, retain, and prevent burnout of their clinical staff. Building or integrating retainer models also generates new revenue streams for providers, with average monthly subscription fees of $135 per patient.[12]
There are a select number of innovative providers who have built variations of concierge clinic models to capture subscription revenue. Mayo Clinic's Medallion program charges an annual fee of $6,000 per individual and guarantees immediate care access. Other health systems offering similar retainer programs include Duke Health, Massachusetts General Hospital, and Stanford Healthcare.
As the U.S. health system continues to move towards value-based payment, including capitated payment models, providers will look to innovative clinics for operational lessons on how to deliver quality outcomes and patient satisfaction while bearing financial risk. As an early adopter of capitated payment models, Iora Health will be a strong proxy for providers looking to participate in similar payment arrangements and deliver care by leveraging models that include heath coaches, dedicated advocates, and care teams.
Frequent Flyers represent a compelling target for providers, as frequent utilizers and revenue generators for the health system. Providers can address consumer desires for personalized care and offer virtual-first options given this segment's openness to digital tools. Similarly, Quality Seekers demonstrate a high willingness to pay for retainer clinic models, subject to affordability barriers for some of the population. Prioritizing quality, the value proposition of immediate, accessible, and personalized care will directly translate to this segment.
Key Takeaway: 7wireVentures is paying close attention to innovative tech-enabled clinics that offer direct revenue growth for health systems or deliver effective care in a value-based payment structure as ripe targets for provider partnerships or acquisition.
Tech-Enabled Primary Care Conclusions
Our analysis provides insight into how age and health status impact consumer needs and how acknowledging and tailoring offerings to those needs can create a more rewarding primary care journey for all. To overcome existing barriers, institutions will need to ensure consumer-level behavior change through targeted services for each segment. Tech-enabled primary care solutions are emerging to enable providers to solve the systematic challenges of diminishing patient-provider relationships, disrupted care coordination, and lost downstream revenue. Similarly, payers are beginning to find tech-enabled solutions to address improper service selection, increased service utilization, and rising costs.
Today, technology is an enabler to forward-thinking primary care. In the future, technology will be fundamental to all primary care as digitally savvy consumers continue to become an increasing portion of the population. Technology will be critical to engaging and empowering the health decisions of this new consumer population – a population comprised of Informed Connected Health Consumers.
[1] [1] Deloitte Survey [2.] Advisory Board Report [3.] PNC Healthcare [4.] West Survey [5.] PXJ [6.] PatientsLikeMe Survey
[2] Pitchbook funding data
[4] Pitchbook funding data
[5] Deloitte Consumer Experience Survey
[6] Pitchbook Funding Data
[7] Medscape
[8] Pitchbook Funding Data
[9] Pitchbook Funding Data
[10] AC Wellness CNBC
[11] Pager Press Release