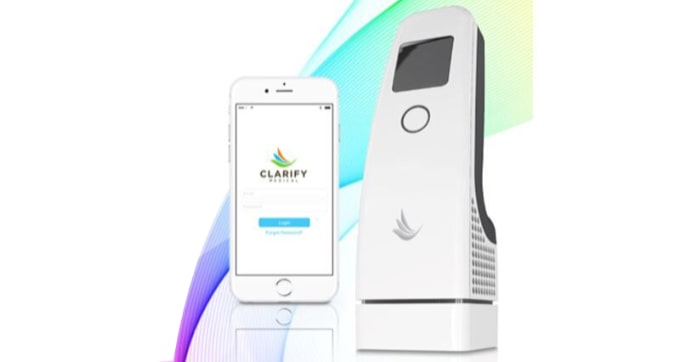 Our Investment in Clarify Medical
We are excited to announce that 7wireVentures has co-led an investment in Clarify Medical, a leading at-home, light therapy system for treating chronic skin conditions, as part of the company's $18M Series A financing. As the first at-home, connected phototherapy treatment platform, Clarify empowers psoriasis, vitiligo, and eczema patients to better manage and self-deliver care.
We are fortunate to partner with HIG BioHealth, SV Health, and Bluestem Ventures, all prominent venture investors in digital health and medical devices, to leverage our collective expertise and strategically scale the platform.
At 7wireVentures, we are always searching for companies that leverage treatment solutions that provide real-time connectivity and empower the Informed Connected Healthcare Consumer. Clarify fits squarely into this thesis by connecting patients to providers and care partners in real-time and encouraging patients to take a more active role in their health.
Clarify vastly improves the treatment experience for patients with chronic, highly prevalent skin disorders by providing a convenient at-home skin condition treatment system. Care is delivered through a connected, handheld narrowband UV phototherapy light treatment device and patients are able to manage dosing, frequency, and duration through a smartphone application. Clarify's innovative system leverages Bluetooth connectivity to allow providers to appropriately adjust treatment dosage in real-time and is particularly well-suited in treating mild-to-moderate forms of psoriasis, vitiligo, and eczema. Patients receive "always on" care support by Clarify Care Partners, who guide patients to drive treatment adherence, improve efficacy, and enhance long-term health outcomes.
Industry experience is exceptionally relevant for leadership of early-stage healthcare companies. Not only were we impressed by CEO George Mahaffey's dermatology subject matter expertise but knew this was the management team to pioneer a new platform in dermatology and beyond.
Why We Invested:
A Clear Need for a Better Solution
Despite phototherapy being the standard of care after failing first line topical treatment, the challenges of this treatment modality often lead dermatologists to prescribe expensive biologics for psoriasis cases. For the sparse patients receiving outpatient phototherapy treatment, there are substantial access, convenience, and cost burdens resulting from a cumbersome treatment schedule. Clarify solves nonadherence challenges by addressing gaps in patient-provider communication, progress monitoring, and driving real-time patient intervention.
The Cost Burden of Psoriasis, Vitiligo and Eczema Treatment
The US healthcare system is burdened by the high costs of managing chronic skin diseases, particularly for difficult to treat categories such as psoriasis, vitiligo and eczema. Collectively, these three skin disorders generate an estimated direct economic burden of ~$58B.[1],[2],[3] Biologics in particular represent a substantial cost burden, averaging $183K per patient treatment lifecycle, and are often not successful for many psoriasis patients.[4] Healthcare stakeholders are keenly interested in economically feasible and effective treatment solutions for these conditions. Payers especially are looking for solutions that drive strong patient adherence and health outcomes, as an alternative to expensive biologic treatments, to better manage member's diseases and drive down cost.
The Power of the Platform
We at 7wireVentures believe in the power of scaling a connected health platform centered around the consumer. Based on our historical success executing on this model with Livongo, we believe there are opportunities to scale Clarify in a similar way. Longer term, whether it's reaching patients for broader screening (e.g., Health Risk Assessments), lateral expansion into other skin diseases, or expansion into other common comorbidities affecting existing patients, 7wire sees a much larger opportunity at play.
"We are excited to invest behind the only connected platform in-market that enables providers to gain real-time insight and unprecedented transparency into the adherence and delivery of phototherapy light treatment at home," said Robert Garber, Partner of 7wireVentures. "Consumers are the center focus of this technology and we see real opportunities to expand upon Clarify's existing successes and continue building a broader platform."
[1] JAMA Study: Economic Burden of Psoriasis in the United States
[2] American Academy of Dermatology: The burden of skin disease on the US
[3] The Burden of Atopic Dermatitis: Summary of a Report for the National Eczema Association
[4] Psoriasis Treatment Cost Comparison: Biologics Versus Home Phototherapy