Prescription for Change: The Pharmacy's New Digital Revolution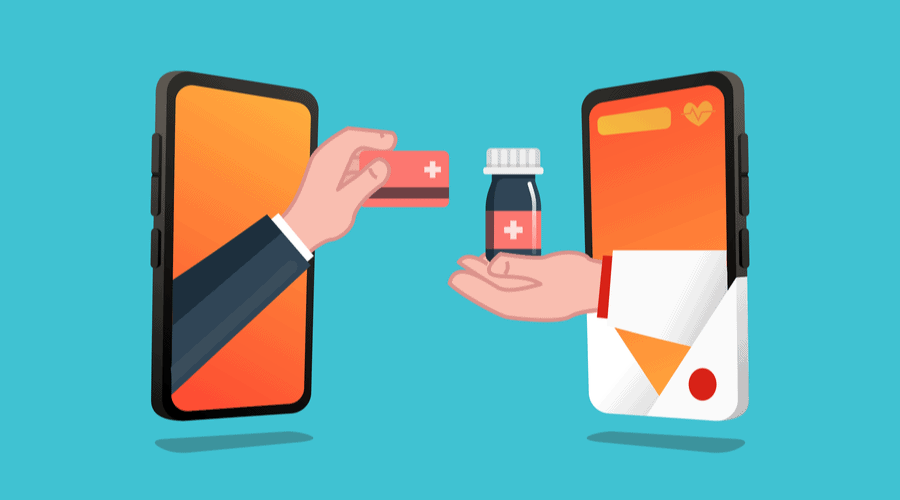 The consumer experience dealing with medication in the US can be summed up in two words: costly and complicated. The US spends more per capita on medication than anywhere else in the world. Likewise, medication utilization is on the rise, with 2 in 3 adults taking at least one prescription drug and are being prescribed more complex drug regimens than ever before. Add to the concoction the rising cost of pharmaceuticals, largely driven by the increase in high-cost specialty drugs and the 25% average annual price increase in patented brand name drugs, and we have created a recipe for frustrated consumers.
These challenges are not just disappointing on a macro level, but actually impede quality care as consumers face obstacles in being adherent to medications due to access barriers, cost barriers, and regimen complexity. Currently, 1 in 3 US neighborhoods is located in a pharmacy desert presenting difficulties for filling a prescription. Specialty medications are even harder to access due to exclusive or limited distribution channels. Even if consumers make it to their pharmacy, many cannot afford their prescriptions or are burdened by the price. Forty percent of adults worry about affording prescription drugs, and for a valid reason, as annual out-of-pocket costs for specialty drugs are as high as $10,000 for a consumer on Medicare. Finally, many consumers fail to adhere to the prescribed medicine regimen due to side effects (or fear of them), low health literacy, or simple forgetfulness as often, life simply gets in the way.
COVID-19 only exacerbated the access and cost problems for consumers. Twenty five percent of pharmacies in low-income areas closed and 14.8% unemployment left many without health benefits throughout the pandemic, causing people to stop taking lifesaving drugs. The use of autoimmune, oncology, and osteoporosis drugs fell by 53% and routine immunization rates for measles, mumps, and rubella were down 50%. These pharmacy closures and resulting care gaps disproportionately impacted communities of color.
Given the large variance of health acuity levels across the US, there are distinct populations that innately require more care and ultimately drive more of the cost burden. We at 7wireVentures categorize the population into four distinct segments: Healthy Shoppers, Med Optimizers, Complex & Chronic, and Seriously Sick.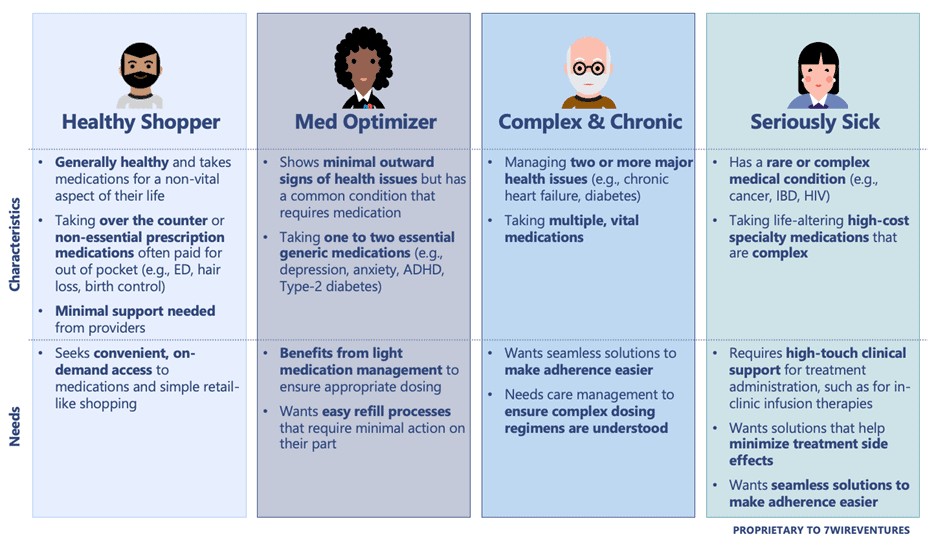 These segments drive meaningfully different system wide implications. While Seriously Sick consumers represent ~5% of the population, these individuals account for over a third of the costs, largely driven by the high price tag of specialty drugs. Likewise, Complex & Chronic consumers account for another third of the costs and are the most likely to be overwhelmed by complex drug regimens.
Digital Pharmacy Landscape
The market for digital pharmacy is robust and growing as companies continue to look to innovate in the multi-billion-dollar opportunity. While digital pharmacy funding has seen steady growth since 2012, the past three years has witnessed unprecedented acceleration. Currently, 2021 is on pace to double the total private funding in digital pharmacy companies from 2020, largely driven by later stage companies raising large rounds, such as Ro's $500M Series D, Capsule's $300M Series D, and Alto Pharmacy's $250M Series D to name a few.
Technology is playing an increased role in the consumer pharmacy journey not only to address the complex care needs of the most vulnerable populations, but also to offer lower cost drug options and seamlessly enable adherence for the broader population. These solutions are not only offered by many major healthcare stakeholders, but more recently from massive retail players such as Walmart, Amazon, and Apple. Given the varying needs across consumer segments, digital health solutions present a clear opportunity to offer a more personalized experience to addressing the unique medication and cost needs for each.
At 7wireVentures, we view this growing pharmacy health care market through the lens of five primary categories: Digital Pharmacy, Medication Management, Pharmacist Services & Workflow, Education & Price Transparency, and Telehealth Prescription Solutions.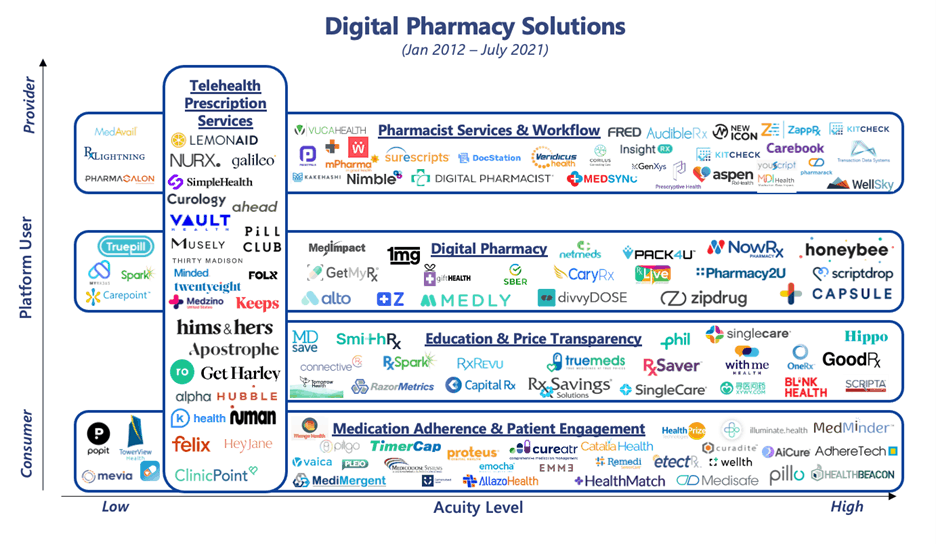 [1] Pitchbook
Telehealth Prescription Services: In the context of a broader shift towards virtual care, telehealth prescription services have shown an impressive uptake, and not just with younger generations. Following COVID-19, seniors who still primarily access care in person are also increasingly leveraging technology to fill and refill prescriptions. Convenience is driving this shift – an asynchronous low-acuity visit for a new prescription only takes on average 2 minutes to complete when done in online formats. Digital solutions providing telehealth-based prescriptions for select generic medications have generated the most investment activity in the digital pharmacy sector. Companies like Ro and hims & hers offer a suite of virtual prescriptions and products for common health conditions across sexual health, dermatology, and even mental health. Other companies are building solutions tailored to the needs of a specific population. Nurx focuses on women, prescribing and delivering common medications including birth control, migraine treatment, HIV PrEP, and herpes medication. Folx offers Estrogen and Testosterone at-home kits and telehealth visits to LGBTQ+ consumers for a monthly subscription price.
Digital Pharmacy: As consumers have come to expect instantaneous delivery led by larger retailers such as Amazon, it is no surprise that pharmacy is following suit. Due to COVID-19 and a desire for convenience, 33% of pharmacy consumers have increased their online and mail order pharmacy usage. Home delivery of medications, however, is more than just convenience. This service solves access problems that historically have driven unnecessary medical costs due to non-adherence. Companies like Capsule provide home delivery of prescriptions and a mobile application for easy ordering and refill facilitation. TruePill built a healthcare API platform that provides pharmacy fulfillment for telehealth prescription service companies and health plans. Other companies are leading the fight against rising costs. Solutions like Honeybee Health offer generic medications at wholesale prices and others like Alto facilitate convenient delivery while also finding the best priced medications for the consumer.
Education & Price Transparency: The price of a drug varies greatly depending on where and how the drug is filled. Medication prices can vary by as much as 10 times between pharmacies and  consumers could save money by paying with cash instead of insurance in 23% of all scripts written.  Despite these price discrepancies, nearly half of consumers rarely or never check the price of a prescription before filling it. Digital health companies are on a mission to fix this problem by providing comprehensive pricing insights across therapies to enable a more shoppable experience for the consumer, while also guiding prescriber decision making. For instance, GoodRx allows consumers to find the lowest price for a prescription or over the counter drug across pharmacies. Connective Rx too is focused on specialty medication and delivers co-payment assistance, point of care education, and streamlines administration.
Pharmacist Services & Workflow: Pharmacists are some of the most exhausted providers, with 60% experiencing burn out driven by non-clinical activities. Yet pharmacists touch patients 35x a year on average, more than any other provider, presenting a clear opportunity to better leverage this workforce to clinically manage patients. Companies are providing tools to automate manual and time taxing administrative tasks so that pharmacists can extend clinical responsibilities and practice at the top of their licensure. For instance, Transaction Data Systems built a management platform that provides insights to community pharmacies on how to improve patient adherence and pharmacy performance. Others like AspenRx are empowering pharmacists to directly connect to patients and deliver education, real-time communication and ultimately, drive medication adherence.
Medication Adherence & Patient Engagement: Companies are trying to comprehensively address the daily roadblocks consumers face – from fear of side effects to simple forgetfulness – that prevent individuals from taking their medications as prescribed. Medication management solutions are abundant in the market with 300+ mobile applications currently available today. Digital companions such as Medisafe address the common and diverse reasons why consumers are not adherent to their medication regimens through education, provider communication, and personalized reminders. These solutions have proven their ability to drive clinical outcomes, with smart pill bottles such as TimerCap driving 13% improved adherence for patients and compliance packaging technology solutions such as AdhereRx achieving a 96% adherence rate across users. Other companies have focused on driving adherence for a single medication, such as Emme's smart birth control system.
7wireVentures Predictions
PREDICTION 1: Pharmacies will leverage digital capabilities to enable them to play an increasingly immersive role in care delivery, given the frequent touch points with consumers and ability to diagnose, dispense medication, administer shots, and order lab tests.
Pharmacists are one of the most trusted health care professionals in the U.S. As PBMs, Pharmacies, and Payers consolidate, these newly combined organizations are reinventing the role of the pharmacy to serve as a convenient site of care for both medication dispensing and fulfillment and now, primary care services. Pharmacists are beginning to deliver holistic care such as medication management, chronic condition management, remote patient monitoring, and vaccine delivery. For instance, CVS Health is closing social determinants of health gaps by placing information on local resources in the bag at the point of prescription fulfillment. As the shortage of primary care providers grows, pharmacists can step in to fill the gap and benefit the broader healthcare ecosystem.
PREDICTION 2: Pharmaceutical organizations will drive the growth of digital companion applications and technology-driven assets for specialty therapeutics that aid consumers in managing their medications, track clinical outcomes, and ultimately, create a compelling health outcomes case for payer organizations.
Consumers have begun to utilize digital medication management applications, which in turn is driving adherence and improving health outcomes. As payers and PBMs increasingly demand longitudinal return on investment data to substantiate the high and rising cost of specialty drugs, pharmaceutical organizations will be further incentivized to drive consumer adoption of digital companion applications to track clinical outcomes and ultimately create a compelling financial case. Pharmaceutical organizations will also leverage efficacy data to perfect regimen recommendations and deliver superior outcomes to competitive drugs.
PREDICTION 3: Given the scrutiny that PBMs are facing regarding rising drug prices, PBMs are vertically integrating with payers and pharmacies and will accelerate investments in new business models to deliver differentiated value propositions such as medication and chronic condition management.
PBMs are already innovating beyond formulary management, repositioning themselves as care management organizations. As digital entrants are elevating consumer expectations with personalized cost transparency solutions, PBMs and health plans will form new partnerships with, or build, digital education solutions. These solutions will equip all members with price transparency tools and navigate consumers towards generic drugs, at-home treatments, and lower-cost care facilities. As health plans and PBMs deliver more cost-effective care, they will continue moving towards new value-based financial incentive structures.
There is an urgent need to get control of the rising costs of drug prices in the US, while also improving clinical outcomes of drug interventions and eliminating access barriers. From digital pharmacies to medication management, digital solutions are proving their ability to transform patients into Informed Connected Health Consumers who are better empowered to make the right medication decisions for themselves. While digital health alone will not be the sole cure-all for the challenges noted above, the widespread adoption of solutions from both consumers and key healthcare stakeholders will provide a solid foundation to catapult pharmacy into its new digital revolution.