Our Investment in FOLX Health

We are proud to announce that 7wireVentures has led an investment in FOLX Health (FOLX) as part of the company's $30M Series B financing round. FOLX is the market's first virtual healthcare platform uniquely designed to address the needs of the LGBTQIA+ community. We are delighted to support the company alongside a strong syndicate of like-minded investors, including new investor Foresite Capital and existing investors Bessemer Venture Partners, Define Ventures, and Polaris Partners. With this new financing and strong syndicate of like-minded investors, FOLX will expand the company's direct-to-employer offering, meaningfully increasing access to more equitable, supportive, convenient, and enjoyable healthcare experiences for the LGBTQIA+ community.
 "Over time, personalized care will come to mean that consumers can receive care from clinicians who deeply understand their cultural context," said Lee Shapiro, Managing Partner at 7wireVentures. "As a platform purpose-built for the queer and trans community, FOLX is uniquely positioned to be the leader in LGBTQIA+ care. 7wireVentures is proud to be partnering with FOLX to transform healthcare for and with the community they serve."
Founded in 2019 by Executive Chair, A.G. Breitenstein, whose experiences with identity-based healthcare discrimination spawned the business, FOLX Health was incubated by Define Ventures.
"As a queer or trans person, navigating the healthcare system is at its best uncomfortable and at its worst terrifying," said A.G. "These stories are far too common. FOLX was founded as a repudiation of the status quo. It exists because we need and deserve something better."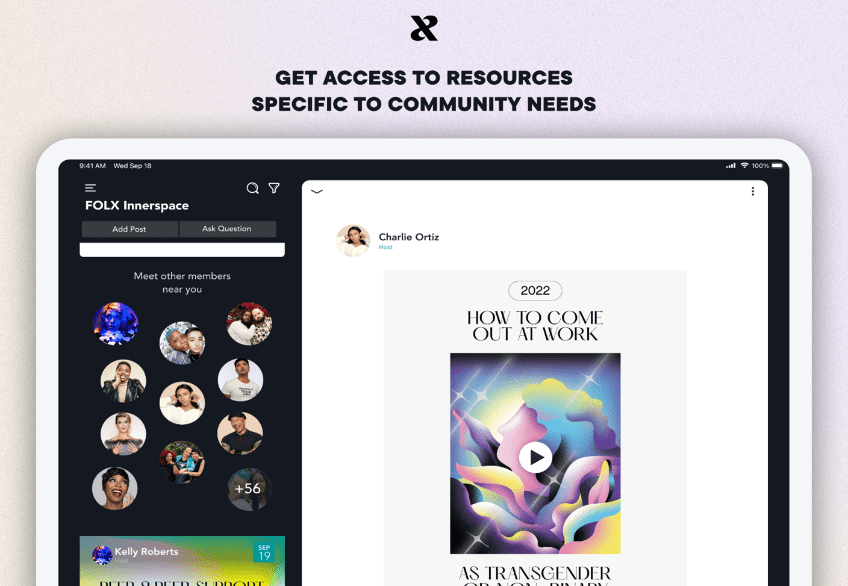 Since its inception, FOLX has placed the needs of the consumer and their community at the center. As a result, the company, led by CEO, Liana Douillet Guzmán, continues to invest in meeting the whole person needs of their queer and trans members. FOLX's comprehensive platform compassionately and effectively supports members throughout the health care journey in ways that the existing system falls short. The company's virtual care offering, delivered by a diverse network of culturally competent providers, enables FOLX members to seamlessly access primary care, sexual health care, gender-affirming hormone replacement therapy, and PrEP. As a complement to these services, FOLX provides a wide-ranging content library and destigmatizing community resources to demystify healthcare for its members.
FOLX most recently expanded its offerings to address the outsized mental and behavioral health needs present among queer and trans individuals. Today, those who identify as LGBTQIA+ are nearly three times as likely to experience depression, anxiety, and substance abuse relative to their heterosexual counterparts.[1] However, when made accessible, mental health treatment and welcoming, empathetic communities can drive improved outcomes. FOLX Health's mental health offerings will launch this month, starting with expert and clinician-led support groups focused on serving the community and their loved ones in areas, including fertility, family planning, and parental support. Further, through an expanded community platform, FOLX members will be able to build peer networks of individuals on similar personal and healthcare journeys. The company's support groups and community platform will be supplemented by one-on-one sessions and a mobile companion app for always-there mental health support.
"We are at a pivotal cultural moment in this country, and it is time for healthcare to finally see, hear, and celebrate the needs of our trans and queer communities", said Liana.  We are excited to partner with 7wireVentures to accelerate our enterprise offerings and bring a new standard of affirming care and advocacy to the millions of employees who identify as LGBTQIA+."
Why We Invested
A Clear Need for Change
Today, many queer and trans individuals avoid care out of fear of discrimination and mistreatment, lack of culturally competent providers, and affordability concerns. 50% of the LGBTQIA+ community experience healthcare discrimination and 50% have had to educate their clinicians on their unique health attributes.[2] Further, members of the community face staggering rates of behavioral health issues. Mental health concerns are particularly acute among trans and queer youth, with 40% to 50% of LGTBQIA+ youth seriously considering attempting suicide.[3] This, coupled with an increasingly hostile public discourse in the U.S and attacks on LGBTQIA+ rights and protections, underscores the clear need for an accessible, contextualized care model tailored to this community.
A Large and Growing Market Demanding Tailored Solutions
The LGBTQIA+ population is one of the fastest-growing demographic segments in the U.S., with the share of adults who identify as queer or trans increasing from 3.5% to 7.1% between 2012 and 2021. Younger generations in particular are increasingly accepting their sexual and gender identities. Today, 21% of the country's Gen-Z population identify as LGBTQIA+.[4]
Despite this large and growing population of healthcare consumers, the system continues to lag in delivering culturally competent, inclusive, and specialized care for the community. Currently, only 4% of primary care providers identify as members of the population and 51% of providers believe that they are not adequately trained to deliver care for their LGBTQIA+ patients, presenting a nearly insurmountable barrier for individuals looking to access appropriate preventative care.[5] Consequently, nearly 4% of the population finds themselves using the emergency department as their primary care destination.[6] Clearly, the existing system is structurally ill-equipped to serve the needs of the population, contributing to poor and declining health outcomes and rising medical expenditures.
A growing body of research demonstrates that increasing access to culturally sensitive providers and approaches to health engagement directly improves health outcomes for underserved populations.[7] As a result, LGBTQIA+ consumers and health stakeholders alike are actively seeking to partner with providers that understand the unique needs experienced by the community.
A Company Inclusively Built For The Community, By The Community
Sadly, Breitenstein's poor first-hand experience engaging with the healthcare system as member of the LGBTQIA+ community is hardly unique. 15% trans or queer-identifying Americans delay or forgo necessary medical care due to fear of discrimination, and nearly 10% are outright denied care due to their identity.[8][9] To ensure the company's offerings are designed to address the lived experiences of the community, FOLX has recruited a team largely from the LGBTQIA+ community, has close ties to the community as parents, siblings, or allies, or has prior experience intimately working with the community. The team's unwavering commitment to serving this community is woven into the very DNA of the business. This foundational element has enabled the creation of a platform that members love to use, evidenced by a Net Promoter Score of 85+.
FOLX has received high praise from consumers and will continue to grow its products, services, channels, and partnerships to expand its impact and reach. As the LGBTQIA+ population continues to grow and demands access to equitable care, FOLX has a clear opportunity to address their needs and become the essential resource for the community. 7wireVentures is honored to welcome FOLX into our portfolio.
[1] Sheppard Pratt
[2] TransEquality
[3] The Trevor Project National Survey
[4] Gallup
[5] NIH
[6] Gender Policy Report
[7] NIH
[8] Health.com: 6 Major Health Disparities Affecting the LGBTQ+ Community
[9] Loma Linda University Health