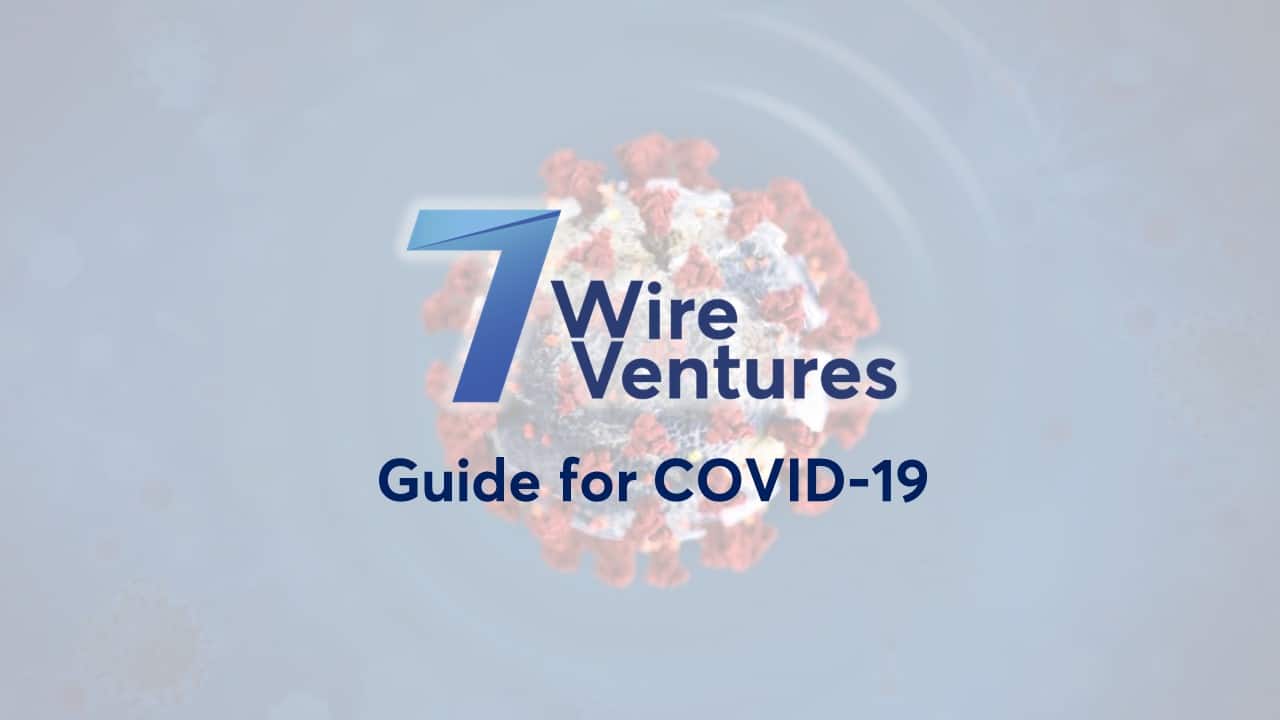 Digital Health is poised to assist the U.S. healthcare system under new Coronavirus policies
With the new and ever-changing COVID-19 legislation there are meaningful and positive implications for digital health companies.
In response to COVID-19, the U.S. has passed several regulatory and reimbursement policies that directly impact digital health startups. To understand the implications of these weekly changing policies, 7wireVentures put together a comprehensive 7wireVentures Regulatory Policy Resource Guide.
Digital health companies should understand the immediate implications to their respective businesses, both positive and negative, as well as the resources they can leverage. While we encourage you to read our published guide in its entirety, we have highlighted four core implications of these policy changes for digital health startups. It remains to be seen if these changes will remain in perpetuity, but there are opportunities for companies today given these recent regulatory shifts that warrant consideration.
Regulatory policies encouraging telehealth have created an imminent opportunity for digital health startups, as barriers have been reduced for companies and consumers.
The relaxation of regulations and expansion of reimbursement of telehealth has increased patient access and ease of use for providers. With expanded consideration for the definition of "telehealth" to include visits, virtual check-ins and e-visits (each with their own qualifiers and policies), digital health startups will benefit from the reimbursement of multiple visit types and reimbursement parity. With favorable payment structures at play, startups should consider opportunities to grow users and onboard eligible providers. A top priority in this small window of opportunity should be ensuring a strong consumer experience to convert new users into long term customers.
Additionally, digital health startups currently delivering telemedicine-based services also have an ability to expand the utilization of their provider workforce across state lines. Now, companies can serve new patients with less restriction on a provider's geographic location and without demonstrating prior patient-physician relationships. For companies looking to expand services to new geographies, this short-term regulatory lift presents a unique opportunity to experiment and reach consumers in new markets without investing resources into obtaining individual state-level licensures. Companies can also market their solutions in new geographies and serve formerly uncovered patients, ideally in regions that also align with prospective health organizations customers (e.g., local health plans and health systems).
Finally, commercial payers are following CMS's leadership and gradually expanding access to telehealth by increasing the types of services covered and waiving co-payments or cost-sharing. While the regulation currently provides short-term relief, we believe that companies who demonstrate strong member engagement and health outcomes will benefit from long-term coverage as an in-network provider with commercial payers.

A reduction in administrative requirements and regulatory hurdles for providers will ease the burden for digital health companies delivering or monitoring care.
CMS waivers amid COVID-19 have relieved administrative burdens dramatically by extending certain reporting deadlines and suspending medical necessity documentation. As a result, clinicians are  getting back time spent on paperwork and shifting their additional focus to patients. CMS has made recent regulatory changes to provide temporary relief from many audit and quality reporting requirements so that providers, healthcare facilities, Medicare Advantage health plans, and states can focus on administering needed care to individuals affected by COVID-19. Additionally, provider documentation requirements for processes such as prior authorization have been temporarily suspended. Digital health companies delivering care or employing providers are no exception to the entities that will stand to benefit from this reprieve. Companies can act with greater agility when expanding care delivery services.
Furthermore, providers and digital health companies alike stand to benefit from recent changes in HIPAA guidelines. Under these guidelines, covered healthcare providers can use any non-public facing remote, audio, or video communication product available to provide telehealth services and communicate to patients during the COVID-19 public health emergency. Patients can now speak with their providers on popular consumer applications that allow for video chats such as Apple FaceTime, Facebook Messenger video chat, Google Hangouts video, or Skype. This waiver reduces cost barriers as no special software or extra expense for healthcare-specific hardware will be required to deliver telemedicine. By lifting these barriers, provider openness towards adoption of virtual platforms may in turn increase in the future. Now is the time for digital health companies to offer provider-facing solutions when clinicians are temporarily pardoned from jumping through administrative hoops to deliver care.
Lastly, the current pandemic has pushed CMS to relax requirements around care delivery. While historically many services have required the direct in-person supervision and/or administration by a physician, this oversight can now be provided virtually using real-time audio/video technology. Many states have loosened restrictions even further by suspending the need for physician supervision and have written guidelines for Advance Practice Registered Nurses (APRNs) who have at least 2 years of supervised practice experience. From this waiver, companies delivering or billing for remote patient monitoring can now leverage lower-level clinical staff to monitor patients and enable their higher trained clinical team members to practice at the top of their licenses. Such companies can benefit from this flexibility by quickly ramping up part time RN or CNA staff members to meet spikes in demand for treatment or monitoring services resultant from COVID-19.
The modifications to Stark Law provisions will accelerate strategic individual and enterprise level relationships for select digital health companies.
CMS's waiver of Stark Law sanctions during the COVID-19 outbreak has lifted the clear line in the sand against direct financial relationships between entities that provide designated health services and physician organizations. Previously, high-growth, digital health companies took great care (and often great expense) to ensure that business arrangements complied with the complex anti-kickback Stark Laws and their associated regulations. Compliance with both state and federal level abuse laws required careful evaluation of business arrangements. This barrier most often applied to digital health companies that engage in marketing or lead generation, particularly for those selling to health systems or provider entities. With minimal resources and costly legal expenses, accordance with these regulations was time consuming, and administratively cumbersome. With this regulation lifted, digital health companies have the opportunity to establish provider and system level referral relationships and deploy resources more freely.
While this waived regulation may expand such referral relationships or marketing relationships, there are some boundaries to consider. The waiver applies exclusively to remuneration and referrals that are "solely related to COVID-19 purposes."   However, some flexibility may exist for companies securing services of clinicians that ensure and expand the ability of healthcare providers to address patient and community needs due to the COVID-19 outbreak. It will be imperative for companies to carefully consider this regulation before acting.

While startups stand to benefit from federal economic stimulus programs, there are considerable trade-offs in selecting a specific loan program or taking on this newfound financing.
All federal funding resources are not the same. As federal legislation has made various loan, tax credits, and tax deferrals available to small businesses, early-stage startups have different acute and long-term cash needs that should influence financing decisions.
One option for startups to consider are Economic Injury Disaster Loans (EIDLs). EIDLs are working capital loans of up to $2 million for small businesses to help overcome a temporary loss of revenue. The loans have low interest rates of 3.75% and are subject to personal guarantees (above $200K), evaluations of credit worthiness, and affiliation rules.
In contrast, Payment Protection Program (PPP) loans provide an interesting funding mechanism, given the 100% forgivable nature of the facility (principal amount only.) Startups are compensated for retaining full-time employees, with the loan proceeds being used to cover payroll, rent mortgage and interest related to debt. As interest will still be due upon the loans' maturity, companies must evaluate whether this funding vehicle is the most optimal financing resource. Companies taking on PPP loans are also not eligible for Social Security Payroll Tax Deferment or Employee Retention Tax Credits, two additional federal resources enabling startups to reduce cash burn and extend runway. The bottom line? Companies must weigh their options and speak with legal counsel to determine which lifeboats taken in the short-term will have the greatest impact long term.
As the market environment evolves, the 7wireVentures team will continue to keep our digital health community abreast of changes. Please find our comprehensive 7wireVentures Regulatory Policy Resource Guide found here. As always, please don't hesitate to reach out with questions/comments. We hope you remain safe and healthy during these unprecedented times.