Addressing Our Healthcare System's Pain Points: How Digital Health is Combatting the Opioid Epidemic and Transforming Chronic Pain Management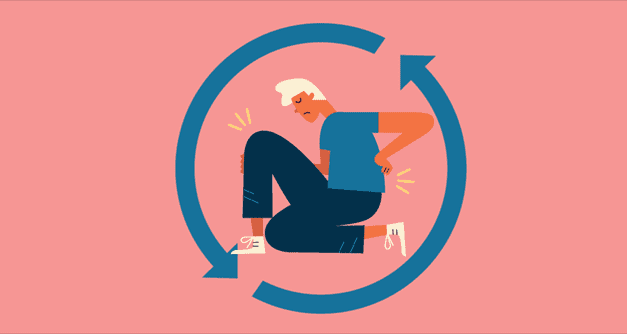 The opioid epidemic has ravaged our nation and is one of the most pressing national health crises we have faced in recent history. In 2020, 70,000 Americans died from opioid abuse. Although our nation's healthcare experts have "called for reinforcements" to stop this catastrophe, there is one underlying cause adding to the challenging path of recovery: the mismanagement of chronic pain.
Today, over 50 million American adults suffer from chronic pain. Despite this condition impacting nearly one in five adult individuals, for many, the journey is fraught with hurdles in accessing specialized pain care, receipt of inaccurate diagnoses, stigmatization, and meaningful out-of-pocket financial burdens. The meaningful shortage of pain management specialists, in particular, has prevented millions of individuals from obtaining high-quality pain care. Furthermore, limited utilization of non-pharmaceutical alternatives, such as physical therapy, has driven a system-wide dependency on pain medications, most notably opioids, for treatment.
To make matters worse, for those individuals who can access care, patients frequently report feeling dismissed, and many face accusations of exhibiting drug-seeking behavior. Forty-one percent of those living with chronic pain feel that people often doubt the existence of their condition. Moreover, chronic pain sufferers wait an average of 2+ years before receiving an accurate diagnosis after seeking help and are left to navigate a healthcare journey of inconclusive testing, sky-high healthcare bills, and increasingly debilitating pain.
The resultant price tag for pain related conditions is astronomical. The estimated annual direct and indirect cost of chronic pain is over $600B a year — more than the yearly costs for cancer, heart disease, and diabetes. A sizeable portion of these costs are shifted to consumers given the substantial insurance gaps and lack of uniformity in coverage for pain management. The result: nearly $12.8B paid out of individual's pockets for neck and back pain alone. Clearly, the current system for treating chronic pain is long overdue for an overhaul.
Likewise, the needs of consumers with chronic pain are far from homogeneous. Given the broad range of acuity levels, there are unique populations that require more care and ultimately drive more of the cost burden. At 7wireVentures, we categorized these population into four distinct segments: Healthy & Independent, Diagnosed & Managed, Disrupted Lives, and 24/7 Sufferers.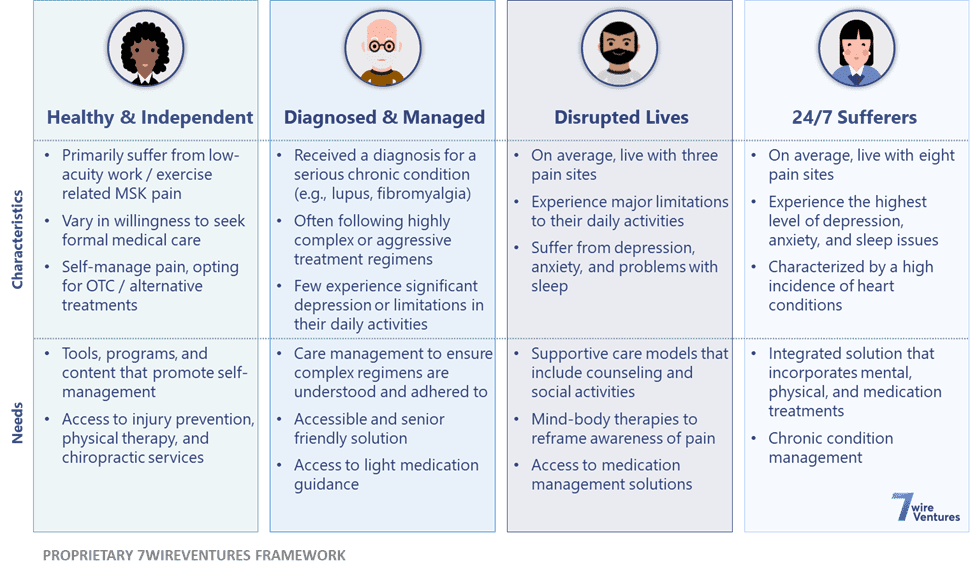 These segments drive meaningfully different system-wide implications. The population of individuals that deal with debilitating chronic pain – 24/7 Sufferers – represent ~19% of the population, and not only live with eight pain sites, on average, but also experience the highest level of depression, anxiety, and a high incidence of heart issues. Given this population requires support for their multiple accompanying co-morbid conditions, the needs of 24/7 Suffers will be much different than even the Disrupted Lives segment.
Unlike other chronic conditions, which disproportionately impact older populations, chronic pain is fairly distributed among adults aged 18-65+. As a result, solutions to address chronic pain must be dynamic to address the needs of diverse patients and for individuals across multiple socioeconomic statuses. The growing need to streamline care, align incentives, and reduce opioid use presents a clear path for innovative digital solutions. Most importantly: consumers are ready.
Chronic Pain Market Landscape
The market for chronic pain is robust and growing. Although funding for digital chronic pain management has seen steady growth since 2012, the past two years have witnessed unprecedented acceleration. In 2021, investments in digital chronic pain management solutions reached $1.7B.
At the same time, a growing body of evidence supporting innovative technology-enabled chronic pain interventions is paving a path for digital health solutions. Examples of this evidence includes digital clinics, showing that 64% of participants reporting a decrease in chronic pain as well as virtual reality (VR) which is being utilized to alter how the brain processes pain and has demonstrated strong outcomes.
This accelerating digital chronic pain market can be organized into four primary verticals: Digital Therapeutics, Wearable Devices, Care Management, and Diagnostics.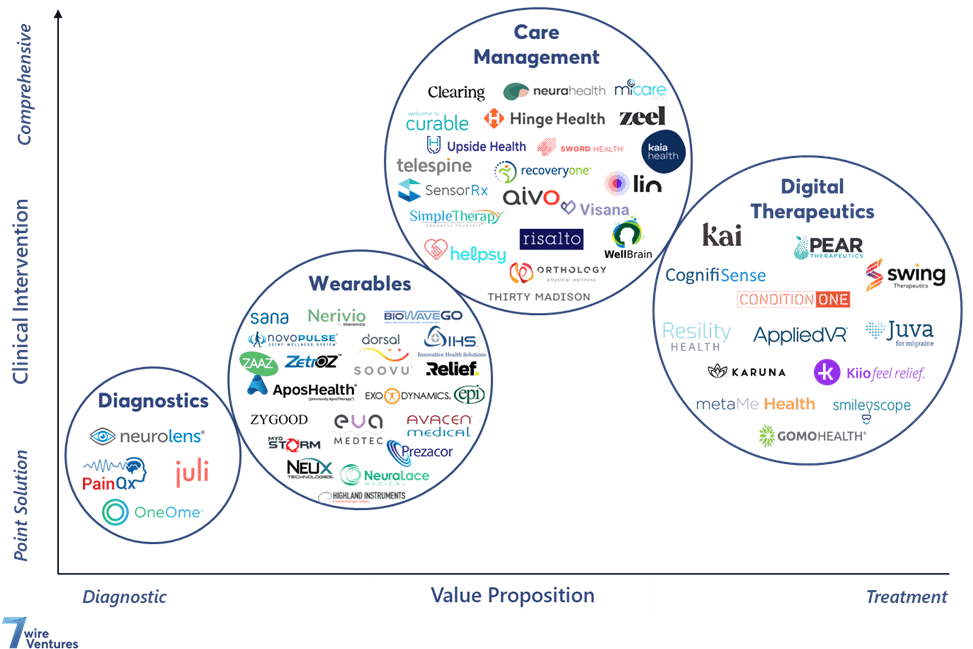 [1] Pitchbook
Diagnostics: Consumers have grown tired of chronic pain misdiagnoses. Today,  up to 80% of chronic pain patients are misdiagnosed, leading to additional tests and procedures. The subjectivity of pain measurement creates hurdles towards an accurate diagnosis and a burden on ill-equipped providers. For example, 66% of PCPs don't feel comfortable managing patients with chronic pain. As a result, the market is ripe for providers to implement innovative and efficacious diagnostic solutions for chronic pain. Several solutions are leveraging software and/or hardware to analyze pain conditions and provide personalized clinical recommendations or diagnoses. Companies like PainQx and Neurolens have developed robust tech-enabled platforms to diagnose and personalize therapy more precisely and objectively. Other companies like OneOme provide genomic testing services to analyze how an individual's DNA may respond to different pain medications, enabling patients to receive personalized medication therapy.
Wearables: Although wearable technology has been in the consumer spotlight for several years, the underlying technology has become more sophisticated. Furthermore, consumers are relying more on wearables to inform them of their health status. Likewise, wearable devices are being leveraged to treat pain and improve costs, with solutions targeting MSK-related conditions having demonstrated significant downstream savings for large employers and health plans.
Several companies are applying proven clinical techniques to address pain. One example is Soovu, which uses waves of pulsated heat to provide instant comfort and lasting pain relief. Other companies like Sana, use audiovisual stimulation to increase the balance between the right and left sides of the brain through a wearable headset. Some companies are focusing on a more targeted pain site, such as AsposHealth, which helps individuals decrease knee, lower back, and hip pain by sharing data from wearable devices with clinicians to re-train patients' muscles. Incumbent technology organizations also recognize the opportunity; Fitbit partnered with Cedars Sinai Medical Center to test the clinical efficacy of leveraging VR, paired with the FitBit Charge 3, to address lower back pain.
Care Management: Despite the meaningful shift to virtual care due to COVID-19, less than a quarter of employers offer virtual services such as online PT to manage MSK and other pain-related issues, despite the strong outcomes and proven cost savings cases with notable industry stakeholders. RecoveryOne is an example of a company in the 7wireVentures portfolio that delivers MSK care through a digital platform, sold to health plans for their self-insured and fully-insured books of business, in which users can work with live physical therapists as well as utilize self-directed exercises. Other companies like Neurahealth are leveraging digital platforms to personalize treatment. Solutions in this sector that will win will leverage digital platforms to support patients across the pain management journey.
Digital Therapeutics: Advancements in the underlying technology and clinical validity for digital therapeutics (Dtx) have transformed the sector in only the last few years. While there is growing regulatory acceptance of digital therapeutics, (with 40 DTxs having been cleared by the FDA over the past four years), there is still opportunity for growth as consumers seek non-invasive, non-medication therapies. Companies like AppliedVR have made regulatory progress as the first FDA-cleared VR digital therapeutic for chronic pain. Pear Therapeutics is developing digital therapeutics for 17 conditions and Swing Therapeutics is tackling the Fibromyalgia market first, incorporating elements of cognitive-behavioral therapy and acceptance and commitment therapy as core tenets of their solution.
Looking ahead, while the market is still somewhat nascent, the demand and need for innovative chronic pain solutions are substantial. We believe that the digital health market will rapidly evolve in the near term, bolstered by the sizeable funding rounds secured for chronic pain solutions.
7wireVentures Predictions
PREDICTION 1: As the efficacy of combining physical, pharmacological, behavioral, and psychological interventions to manage chronic pain becomes more widely recognized, we believe that personalized, multi-modal approaches incorporating digital interventions will become the standard of care.
Holistic care approaches that offer the promise of multidisciplinary, coordinated "Whole-Person" care will increasingly be embraced by prominent organizations, such as the VA and the NIH. Catalyzed by an increasing volume of peer-reviewed research and clinical studies that demonstrate the efficacy of digital interventions in pain management, stakeholder adoption of digital interventions will accelerate, with a particular emphasis on measuring objective pain levels and improving the consumer experience. Growing consumer use and acceptance of digital health solutions will drive the availability of large datasets to train prediction algorithms. Combined with personalized multi-modal treatment strategies, advanced software technologies, and objective digital biomarkers, digital interventions, bolstered by AI will drive objective diagnostic and treatment decisions for chronic pain management and become the new standard of care.
PREDICTION 2: Digital solutions will decrease reliance on opioids, other pharmacologic medications, and surgeries as standard chronic pain treatments and receive widespread adoption from provider organizations and consumers.
Growing appreciation for the serious risks associated with medications for long-term pain management, such as addiction, will encourage professional organizations, as well as state and federal agencies to develop pain management guidelines focused on alternative treatment options, with digital solutions as the beachhead strategy. Furthermore, a growing body of evidence demonstrating the sustained efficacy and overall cost-effectiveness of digital health approaches to chronic pain will encourage health plan reimbursement and broader provider adoption. As providers increasingly leverage solutions delivering objective pain measurements and passive biometric monitoring to improve the diagnostics and treatment, prescriptions for opioids will simultaneously reduce.
PREDICTION 3: As funds from state and local opioid settlements continue to soar and expanded reimbursement for evidence-based digital therapeutic interventions is granted, private market activity and funding will meaningfully increase in the chronic pain space.
This month, four companies agreed to pay $26 billion in opioid related settlements. Similar to other public health litigation campaigns, funds from these opioid settlements will be dedicated to fortifying the nation's public health. This includes devoting resources to digital solutions that divert consumers from drug therapies and prevent future addiction. Additionally, CMS will spearhead new reimbursement models, beginning with fee for service agreements, which will usher in outsized growth in the number of digital solutions addressing chronic pain.  As longitudinal data is captured, companies will quantify cost savings from high-cost healthcare events (e.g., avoided surgeries), and encourage a shift towards value-based contracting agreements. Long-term, models that successfully deliver a highly-personalized and holistic care experience for patients will serve as the new standard of care, further fueling private investment in the market.
Although innovation in chronic pain treatment and care delivery has accelerated in the wake of COVID-19, tragically, deaths related to opioid abuse soared during the pandemic. There has never been a greater need for digital disruption to improve outcomes for patients with chronic pain. Digital health has the opportunity to empower Informed Connected Health Consumers to manage their chronic pain needs safely and ultimately, reinvent how the healthcare system thinks about chronic pain care.