7wireVentures Deepens Relationship with Zerigo Health Through Series B Investment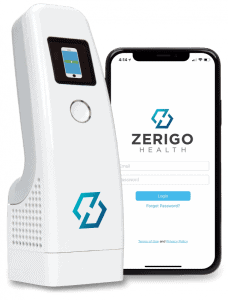 We are excited to announce that our portfolio company Zerigo Health closed $43M in Series B financing! The company, which delivers the only connected light therapy solution for treating chronic skin conditions at home or on the go, will use the additional funding to significantly transform treatment options for consumers with chronic skin conditions, including the 40 million individuals in the U.S. today suffering from psoriasis, eczema, or vitiligo. We're proud to be joined by new investors General Catalyst, Dragoneer, Cigna Ventures, and Leaps by Bayer.
As an early-round investor in Zerigo (formerly Clarify Medical), our team at 7wireVentures recognized a meaningful opportunity to transform the company from its roots as a highly effective, FDA-cleared connected medical device business to a broader platform by partnering directly with health plans and employers to address the challenges their members face in obtaining effective care. Historically, the lack of access to convenient phototherapy treatment has led to the prescribing of high-cost biologic/systemic drugs that bypass the standard of care – UV Light Therapy. These prescribing habits – which can cost payers up to $60,000 per patient per year – has led to an uncontrollable rise in medical expenditures for patients and the risk bearing organizations that pay for their care.
Based on our team's historical success executing on a similar platform model with Livongo, we saw an opportunity to scale Zerigo, and for a condition that costs those at risk for the cost of care nearly three times the annual cost of diabetes. Over the past two years, we've worked closely with Zerigo through our Operator Driven Model to drive growth by partnering with health plans and self-insured employers. Zerigo offers an FDA cleared connected NB-UVB phototherapy device to deliver treatment and enable convenient user engagement and ongoing data collection. As an analogous model to Livongo, Zerigo deploys a combination of tech and human touch to drive real-time interventions for people with chronic skin disorders, improving adherence and producing superior health outcomes. Evidenced by clinical studies, Zerigo has improved adherence above the industry average, with 90% early adherence compared to 47% out-patient early-adherence using alternative solutions.
As part of the Series B investment, 7wireVentures Managing Partner and CEO of Transcarent Glen Tullman will join as Executive Chairman of the company's Board of Directors, and will apply his expertise to further support the Zerigo team in growing, and transforming treatment options for those with chronic skin conditions. The investment also included participation from existing investors SV Health Investors, H.I.G. Capital, and Bluestem Capital.
Congratulations to President & CEO John E. Schellhorn and the entire Zerigo team on this exciting milestone!
Learn more in the press release or in Business Insider.