Livongo and Teledoc Merger: The New Leader of Consumer-Centric Virtual Care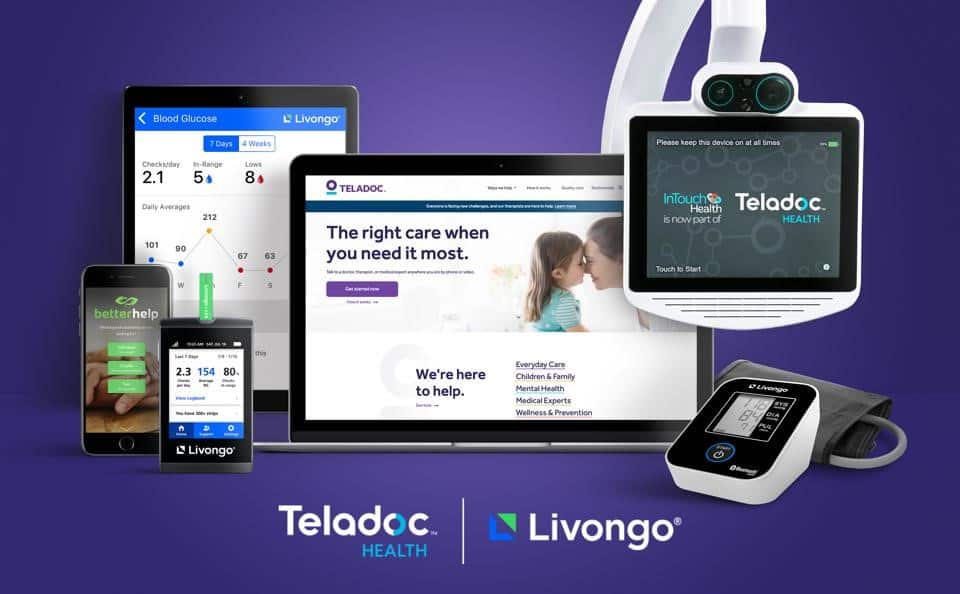 We are pleased to share that 7wireVentures portfolio company Livongo (LVGO) announced its strategic merger with telemedicine provider, Teladoc (TDOC), to create a new standard in global healthcare delivery, access, and experience. The merger creates a global consumer centered virtual care company that can serve a full spectrum of health needs. By leveraging Teladoc's industry-leading telehealth platform and expansive user base, the merger will accelerate Livongo's mission of empowering people with chronic conditions. The transaction is valued at ~$18.5B, or $158.99 per share.
A product of the 7wireVentures Hatch model, Livongo was founded by our team with the intention of improving the healthcare experience for individuals living with diabetes and other chronic conditions. Shortly after the company's inception, Glen Tullman stepped in as Chief Executive Officer to provide early leadership and build Livongo's long-term path to success. Glen transitioned to Executive Chairman at the beginning of 2019 and shortly thereafter, Lee Shapiro stepped in as Chief Financial Officer to help launch Livongo's IPO in July of last year. Livongo has had unprecedented growth and has continued to embody the 7wireVentures thesis around empowering an Informed Connected Health Consumer.
Today, Livongo has grown to serve over 1,300 clients and manages over 400,000 Members in the Livongo for Diabetes plan (as of Q2 2020). Since inception, the company has expanded to serve Members with other chronic conditions including hypertension, weight management and behavioral health. With an emphasis on treating the whole person, Livongo leverages Applied Health Signals gained from smart, connected devices to deliver personalized digital guidance and around-the-clock access to health professionals, making it easier for individuals with chronic conditions to stay healthy.
Extensive revenue acceleration opportunities exist across the two entities through the transaction that will deepen each company's competitive moat across virtual care.  With Teladoc's industry-leading telehealth platform which is available to over 70 million customers, the merger will accelerate Livongo's mission with a truly unmatched offering.
"From day one, our mission at Livongo has been to empower people with chronic conditions to live better and healthier lives. The merger of Livongo and Teladoc accelerates this mission by serving the consumer's full spectrum of healthcare needs through a seamless, integrated experience. The merger will expand the scale of Livongo's Applied Health Signals platform and build on Teladoc Health's end-to-end virtual care platform to create the global leader of consumer-centric virtual care."  Glen Tullman, Livongo Founder and Executive Chairman.
At 7wireVentures, we believe that this merger is reflective of a macro shift in the delivery of healthcare services, emphasizing the power of convenient, accessible care on-the-go or in the home. Since the beginning of the COVID-19 pandemic, both Livongo and Teladoc have reported accelerated adoption of their digital and remote care services as consumers were left unable to access their traditional channels of care. While the need to access care remotely has been accelerated by the pandemic, we believe this shift will be long-lasting as consumers will now expect healthcare to meet them where they are.
The new company will leverage both organizations' rapid growth trajectories and maximize empowerment through Livongo's Applied Health Signals, putting consumers back in charge of their health and care. Combined with Teladoc's broad reach and longitudinal relationships with patients and payer members, the company will seamlessly deliver care as well as monitor and manage consumers' chronic conditions virtually.
This is a milestone for consumer digital health and ranks as the largest transaction in the industry to date, and the creation of the new global leader of consumer-centric virtual care.
Thank you to our entire network for supporting this journey…the best is yet to come!