Digitally Diagnosing and Treating Sleep: No Longer a Dream
What if we told you that the United States is amidst one of the greatest public health epidemics, with consequences greater than any of us could imagine? It has greater scale than the current opioid crisis and costs the U.S. over $400 billion annually.[1] Americans are silently sacrificing a biological necessity, often deemed as a luxury: a good night's sleep.
Insufficient sleep has been linked to more than half of the leading causes of death in the U.S. and has repeatedly shown to be a key driver of negative health outcomes across age groups, genders, races, and socio-economic groupings.[2] Despite the scale of individuals impacted by insufficient sleep – over 100 million people – a meaningful portion of this population remains undiagnosed.[3] The broad range of unique sleep disorders with frequently overlapping symptoms leads to complexity in delivering accurate diagnoses and appropriate care.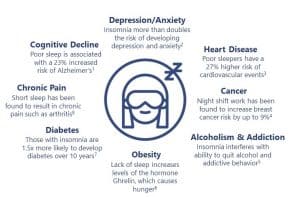 The good news for individuals who successfully obtain an accurate diagnosis is that there are several treatment modalities, such as Cognitive Behavior Therapy for Insomnia (CBT-I), that have been deemed effective for common sleep disorders.
However, navigation complexities for obtaining proper, long lasting treatment is a challenge for both patients and providers. Traditional treatments, such as sleeping medications (benzodiazepines), have highly addictive properties. Continuous positive airway pressure (CPAP) machines are characterized by low adherence rates due to discomfort or disruptions to a partner's quality of sleep.
Stakeholders across the healthcare ecosystem are leveraging technology to develop sleep solutions that build on a foundational understanding of casual factors to improve diagnosis and personalize care. Digital health innovation is addressing systemic challenges for sleep conditions and better informs the consumer on awareness, diagnosis rates, and treatment adherence.
Digital Health Sleep Solutions
Investors have started to take a keen interest in digital health solutions addressing sleep quality and deficiency. Total funding and average investment in privately held digital sleep companies peaked in 2019, after reaching record highs in 2018.[4] This market also saw a substantial rise in both the number of deals and average deal size, which nearly tripled over the past five years as more mature companies such as Calm and Headspace raised larger investment rounds.
At 7wireVentures, we view investments in this space through five categories: Connected Devices, Virtual Diagnosis & Telemedicine, Psychotherapy / Emotional Wellbeing, Digital Therapeutics, and Pediatric-Focused Solutions.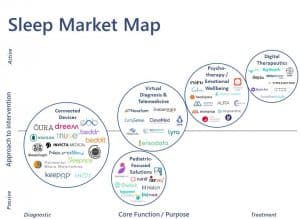 Connected Devices: The expanded functionality and sophistication of devices have increased the adoption of wearables that monitor sleep. To date, 22% of U.S. adults have a wearable sleep tracking device.[5] Additionally, advancements in sensor technology have contributed to the rise of the "Internet of Things"; connected sleep devices (e.g. mattresses, lights, thermostats) are no exception. Companies in this segment are leveraging hardware to collect a robust set of longitudinal data and to legitimize the use of remote and at-home sleep solutions.
Virtual Diagnosis/Telemedicine: The shortage of providers within the U.S. is exacerbated when it comes to sleep, with the ratio of board certified sleep specialists to individuals roughly at 1: 43,000.[6] As more consumers are becoming aware of and seeking treatment for sleep-related disorders, the burden on physicians is increasing. However, consumers are broadly becoming more amenable to telemedicine services and a willingness to use live video to consult with a sleep specialist. Companies in this space are capitalizing on the increased interest and need for such consultations by leveraging telemedicine or other modalities of virtual connection to deliver diagnoses or treatment and to expand access to sleep specialists.
Psychotherapy and Emotional Wellbeing: Sleep and behavioral health are meaningfully intertwined; psychological conditions contribute to many cases of insomnia or hyper-insomnia. As such, consumers are seeking ways to combine non-pharmaceutical therapeutic options that address underlying behavioral health issues, such as meditation, with more traditional forms of treatment for chronic sleep conditions (e.g., CBT). Employers are also responding to evolving employee healthcare expectations by including more mental and behavioral health offerings, including support for better sleep habits. Companies in this sector offer digital and virtual mindfulness/psychotherapy solutions and have laterally expanded to include sleep treatment, or are developing niche solutions, such as video-based meditation courses, targeted solely at sleep.
Pediatric-Focused Solutions:  Sleep is essential for infants and is necessary for mental and physical development. Substantial sleep is also critical for teenagers, helping them self-regulate, engage in learning, and refrain from injuries. Yet 60% of children report using at least one screen media device during the hour before bedtime, with studies linking such activities to poor sleep.[7] Despite the well understood need for sleep, 60 to 70% of American teens live with borderline to severe sleep debt.[8] As a result, more accurate and less invasive technologies are being developed to meet growing demand from parents to monitor infant sleep behavior or to improve the sleep of children and teenagers. [9]
Digital Therapeutics: Cognitive Behavioral Therapy (CBT) is a well-recognized treatment for sleep disorders. Mounting evidence of the efficacy of online or mobile CBT for Insomnia (CBT-I) sets the stage for expanded reimbursement and improved outcomes. With growing awareness of the addictive properties of sleep medications, patients and physicians are seeking safer treatment alternatives. Sleep disorders are becoming a focus for digital therapeutics and FDA-cleared prescription digital therapeutics. Such companies are capitalizing on the adoption of mobile solutions and enabling consumers to self-navigate and self-treat sleep disorders by digitizing clinically established treatment pathways to access therapy anytime, anywhere.
While consumer adoption has been a leading contributor for the market's momentum, key healthcare stakeholders can leverage these solutions to improve diagnosis, increase adherence, and drive down medical spend. The partnership forged by CVS incorporating Sleepio as the first digital product in its new Vendor Management Service for PBM clients sets a leading example for future digital health partnerships in the sleep market.
7wire Predictions 
PREDICTION 1: Increasingly, payers and providers will screen for and educate consumers, particularly those with heightened risk factors, on the effects of sleep disorders, and include diagnosis and treatment as part of whole person integrated care.
Evidence of bidirectional links between sleep and chronic comorbidities, such as hypertension, diabetes, depression, and dementia, continues to grow and the general population is becoming more aware of this linkage. As payers, providers, and regulators shift toward preventative and value-based care, early and more prevalent detection and treatment of sleep disorders such as insomnia and Obstructive Sleep Apnea (OSA) will become a priority. An evaluation of a person's "sleep health" will become part of standard health screening requirements delivered by primary care providers.
PREDICTION 2: Payers will expand coverage for sleep therapies which long-term, will be incorporated into alternate payment models, ultimately driving improved overall consumer treatment adherence and better provider management of sleep solutions.
High direct and indirect healthcare costs linked to inadequate sleep and poor adherence to Obstructive Sleep Apnea (OSA) and insomnia treatments will continue to drive the focus of payers and providers toward improving diagnosis and increasing adherence to proven treatments by expanding coverage for common sleep disorders. The overall shift from fee-for-service to value-based care provides a natural transition for the way sleep health is managed and paid for long-term, especially given the advancements in at-home sleep testing and treatment. Evolving technologies will help lower-cost providers manage less-complex patients, and more complex cases will be referred to specialists.
PREDICTION 3: Innovative employers will provide digital sleep solutions as a covered benefit to recruit and retain talent, ensure optimal productivity, minimize absenteeism, and reduce growing employee burnout.
As employers increasingly adopt human capital solutions to improve the management of their workforce, greater transparency and quantification of the costs of lost productivity and absenteeism will motivate adoption of innovative digital solutions, including those improving mindfulness and emotional wellbeing. As health costs associated with sleep are substantiated by a growing body of research and increasing employer awareness, self-insured employers will be further motivated to adopt new solutions that improve sleep and reduce overall healthcare spend. A new generation is dominating the workforce. Through this shift, employee expectations for expanded health services will rise with benefits. Employers will need to offer a robust suite of health and wellness benefits to recruit and retain top talent. 1
PREDICTION 4: Technology will enable democratization and availability of solutions, with personalized and continuously iterating real-time treatment plans, initially based on the patient's medical history and continuously adapting to their unique lifestyle through ongoing passive data collection.
With technology driving the democratization of sleep treatment, direct-to-consumer solutions will garner the largest number of users and subsequently, a vast body of data to drive AI-enabled personalized treatment. Passive sleep monitoring through connected devices combined with remote evaluation tools, more sophisticated algorithms, and remote specialist coaching will create a world where personalized sleep plans are updated daily. There will be an opportunity to intelligently link an ecosystem of connected devices to an individual's tailored plan, automatically adjusting the plan to accommodate changes in environment, physiological health, and psychological heath. This degree of connectivity and automated intervention, alerts, and updates driven by algorithms and best practices will play a key role in supporting caregivers for members of high-need populations (e.g. infants and the elderly), allowing for quality sleep care and risk management outside of a formal clinical setting.
[1] Why Sleep Matters- the economic costs of insufficient sleep
[2] Extent and Health Consequences of Chronic Sleep Loss and Sleep Disorders
[3] Big Health White Paper Report: Why Sleep Matters
[4] Pitchbook
[6] American Academy of Sleep Medicine
[7] Youth Screen Media Habits and Sleep
[8] Child Mind Institute: Teens and Sleep